A new Bollywood blockbuster is set to catapult Ireland's tourism industry following its release in 24 countries.
This summer's highly anticipated Bollywood film Ek Tha Tiger will be released in more than 3,000 cinemas right around India tomorrow (15 August). A romantic thriller starring two of Bollywood's most celebrated actors Salman Khan and Katrina Kaif, it is expected to do extremely well at the box office and has been widely tipped to be the biggest Bollywood blockbuster of 2012.
The film was shot on location in Dublin last autumn and will be released in 24 countries worldwide, showcasing the city to a massive audience of over 100 million people across the globe. The film, which means 'Once There Was A Tiger', portrays Dublin as a modern, fun and vibrant city, rich in history and culture. It features spectacular dance sequences and stunts in lots of well-known locations and landmarks – including Trinity College, Temple Bar, the Ha'penny Bridge, the Millennium Bridge, Grafton Street, the Shelbourne Hotel, Dublin Castle and even the Luas!
The release of this high profile film provides Tourism Ireland with a unique opportunity to highlight the island of Ireland as a wonderful holiday destination and the organisation is rolling out a busy promotional programme in India during August. Activity to spread the good news about Ireland includes a TV and online advertising campaign featuring footage from the new film, as well as other scenes from across the island – very much positioning Ireland as the place where the film's characters Zoya and Tiger (played by Katrina and Salman) meet and fall in love and a wonderful, romantic and exotic destination for Indian travellers. Tourism Ireland's promotions also include extensive PR and publicity activity.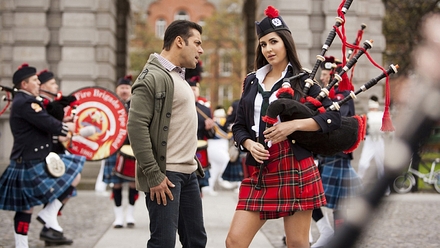 Khan and Khaif on set in the grounds of Trinity College, Dublin
This is the first time that a major Bollywood production was shot in Ireland and Tourism Ireland is confident that it will help to significantly boost awareness of the island of Ireland among India's growing middle and upper classes, as well as the Indian Diaspora around the world, who have the potential to come here on holiday.
Niall Gibbons, Tourism Ireland's chief executive, said: "Bollywood is deep-rooted in the psyche of most Indians and in Indian communities across the world and the films have a considerable influence on Indian travellers when they are deciding on their holiday destination... we are confident that it will help increase awareness of the island of Ireland among Indian travellers who are always on the look-out for new destinations to explore."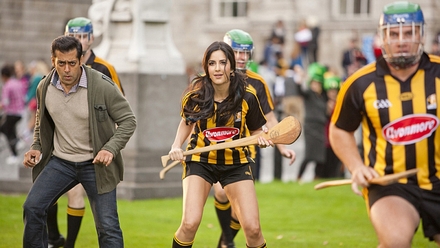 The film fuses Irish culture and custom with an Indian script
"We expect the film will whet their appetites and create a curiosity to come and visit the places where the film was shot. We are delighted to have co-operated with the Irish Film Board in securing this important film for Ireland which was also made possible through strong support at Government level."
An event in Mumbai last week to celebrate the upcoming release of the film, organised by Tourism Ireland, in conjunction with the Irish Embassy and the Irish Film Board, was attended by about 160 leading Indian media and travel trade contacts. Acclaimed Bollywood director Kabir Khan, who directed Ek Tha Tiger, was also in attendance and addressed the guests. The event was supported by the IDA, Enterprise Ireland, Trinity College and Fantastic Films.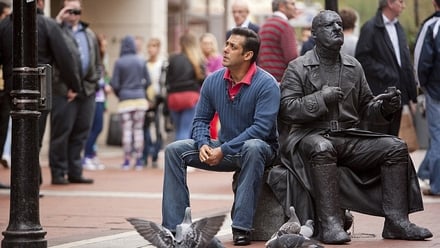 Many Irish people will recognise the local attractions and characters set to appear in the film
In the Middle East, Tourism Ireland also has a busy programme of promotions under way right now, targeting the huge Indian Diaspora living there. Tourism Ireland has partnered with Yash Raj Films, the production company responsible for Ek Tha Tiger, for a press and radio ad campaign. Promotions also include social media activity and email marketing, as well as co-operation with Etihad Airways which operates a direct flight to Dublin from Abu Dhabi.
Tourism Ireland worked with the Irish Film Board to secure Ek Tha Tiger for Ireland and with Dublin City Council and other agencies to help facilitate filming in the city. TV and film are recognised as strong influencers on prospective visitors to the island of Ireland and Tourism Ireland has been liaising closely with the Irish Film Board and Northern Ireland Screen in recent years, to attract and facilitate film-making in Ireland and to further exploit the marketing potential of TV and film productions locating here.