Maximising the uniquely beautiful and alluring character of Kinsale, West Cork, the 2012 Kinsale Arts Festival programme provides a tasty look at the Vice & Virtue of Irish society this summer through music, art, literature, drama, poetry, film, family events and.. food!
The 15,000 visitors expected to attend this year, between July 7th and 15th, won't be disappointed as the best thinkers, actors, artists, musicians and chefs discuss, debate and delight in the lighter and darker sides of life across a diverse and eclectic menu of cultural events that aim to get to the heart of the 'Vice & Virtue' matter.
An entire strand of the 2012 programme will offer audiences a delicious taste of Kinsale, with a twist! Food is both a guilty pleasure and a "virtual" necessity and is now a featured theme within the programme. There's dramatic dining, a murderous feast, jelly workshops and a dinner that could change your life.
The streets of Kinsale themselves are being programmed for the festival alongside other unique venues including a boat, a cave, Charles Fort and Ireland's only inflatable arts venue, the Pop-Up Playhouse. For those wishing to stay in Kinsale, or in nearby Cork City, only half an hour from the Festival, excellent accommodation packages are available on the official website.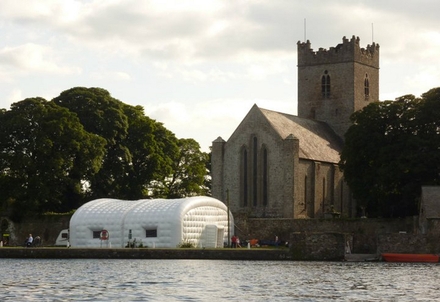 Visitors to the festival this year can become part of the festival as a range of programme events are interactive and require audience participation and creative input from visitors. There is also a sub-programme devised specifically for children and families to enjoy the virtuous art of Kinsale culture together.

The programme of the Kinsale Arts Festival this year, taking from 7th-15th July, is as diverse as it is engaging, and highlights include;
• Shakespeare as you've never seen him before in Text Messages…. four plays….in no more than 20 minutes each; still hard hitting, touching, meaningful, and often hilariously funny.
• Eden Project founder Tim Smit in scintillating conversation with Lord David Puttnam delivering a story of what is possible and how with a little vision the world can be created anew.
• Fishy Fishy's Martin Shannahan, whose new show Surf and Turf premieres on RTÉ One next week, will host food workshops taking the fear out of fish!
• Mark Patrick Hederman Abbot of Glenstal Abbey is invited to explore if things are ever really black and white.
• The Leviathan Political Cabaret featuring Diarmaid Ferriter, Kevin Kildea, Carol Hunt and Catherine Halloran provide music, comedy and fiery debate on Virtue & Vice – Why Sex Sells?
• Jan Hendrik Rubel will perform Tideways; Flooded Music in an entrancing venue of a secret Kinsale Cave.
• Frisky and Mannish, pop experts and a pastiche parody take their particular brand of pop education from Sydney Opera House and Edinburgh Fringe to Kinsale with their Extra-Curricular Activities show.
• Jelly Town features a series of events, talks, happenings and children's workshops led by A2Architects and PAC Studio to explore what food and architecture have in common.
• The Dramatic Dinner at Crackpots Restaurant invites you to explore your performance skills in a series of interactive mini plays.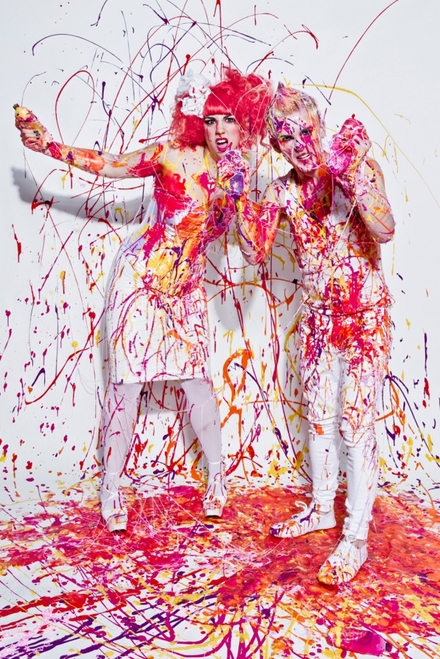 Pop education duo Frisky & Mannish
• There will be unforgettable listening with a special mini classical festival-within-a-festival as international stars Roustem Saitkoulov and Gerald Garcia and Irish musicians Elizabeth Cooney, Finghin Collins and Carol McGonnell deliver dramatic and memorable performances.
• Firm festival favourites include theatrical performances of Love All, Disco Pigs and Three Men Talking About Things They Kinda Know About!
• The sensational and shocking Paul Howard brings us the most searingly honest canine autobiography ever in 'Triggs: The Autobiography of Roy Keane's Dog'
• Dragon's Den star Sean O'Sullivan and Secret Millionaire Marcelle Speller will debate the virtue of small, radical and dangerous ideas in changing our world for the better.
• Something poetic is happening in SuperValu Kinsale as KAF brings the greats to the shopping aisles in 'Your Yeats is by the Baked Beans'.
Follow the Kinsale Arts Festival online on Twitter and on Facebook.