The fabulous French holiday destination of Rennes is now on Shannon's doorstep thanks to the launch today of the first Aer Lingus Regional Shannon-Rennes flight which took to the skies from Shannon Airport.
Providing a welcome boost for tourism in the Shannon region, the new direct Aer Lingus Regional Shannon-Rennes service will operate every Saturday for the summer season up to 1st September.
The weekly flights depart Shannon at 3.30pm every Saturday providing convenient connections to this stunning Northern France region. Similarly, weekly flights depart Rennes every Saturday at 7.05pm and passengers travelling from France now have direct access to Ireland's Atlantic west coast which will enhance tourism in Shannon and its surrounding regions.
Commenting on today's announcement, Aer Arann's Interim Chief Executive Sean Brogan said, "We're delighted to provide this convenient, direct link from Shannon to Northern France. This new Shannon route is very attractive for both markets providing tourists from Shannon with direct access to Rennes. Similarly we are opening an important air-link directly from Rennes encouraging French tourists to visit Shannon and its surrounding regions bringing welcome tourism to the area.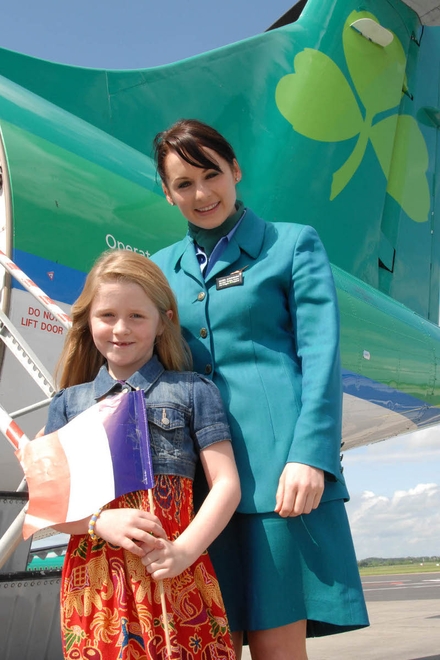 Ruby Mulqueen from Ardnacrusha, Co. Clare pictured with cabin crew member Hazel Cavanagh at the launch of the new direct route between Shannon and Rennes
"This is our third Rennes summer seasonal route which will operate in addition to services from Dublin and Cork and we are confident that it will be a success."
Aer Lingus Chief Commercial Officer, Stephen Kavanagh said, "With the addition of the Shannon-Rennes service, Aer Lingus is delighted to expand on the strong business and tourism links that exist between Ireland and Brittany and we look forward to welcoming more and more passengers on board our services over the summer season.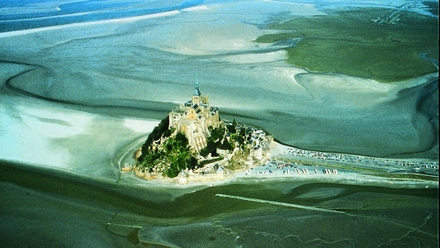 The new flying route with link the West with the North-West of France, pictured is le baie du Mont St. Michel between Brittany and Normandy, a UNESCO world heritage site
Welcoming the commencement of the route Shannon Airport Director Mary Considine said, "The Shannon-Rennes route is an important addition to our network of summer services and we are delighted that this attractive location is now directly accessible for people across the Mid-West. It is also an opportunity for our tourism agencies here to capitalise on a new market for the wider West of Ireland region."
Whether you are looking for a short break in France or an easy summer getaway the capital of Brittany, Rennes, is a great summer holiday destination. Cafes spill out onto the pavement, bars are alive with Breton music and the old town hosts one of France's biggest markets every Saturday morning.
By wandering through the old medieval town you will discover the many colourful timber style houses and listed mansions, its renowned Thabor Botanical Gardens, and its major landmark the Brittany's Parliament building.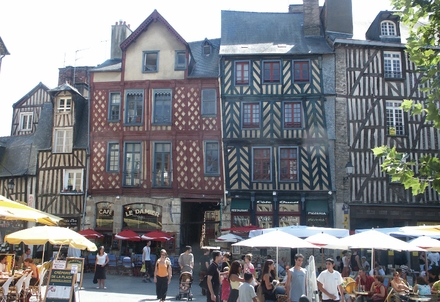 The Place St. Anne in Rennes, France
Rennes is also a great gateway to the rest of Brittany. Take to the open road and you won't pay a thing on Brittany's toll-free, easy roads. You could Head south to the Atlantic where you can take a boat trip around the Morbihan gulf, go island hopping or visit the remarkable standing stones at Carnac.
For culture vultures, follow in the footsteps of the painter Paul Gauguin with a trip to Pont-Aven or go Celtic in Quimper, Brittany's cultural capital. Take to two wheels – or two feet – and cycle or walk through the tranquil Breton countryside, following canals, rivers or paths at will.
Go west to Brittany's own land's end, Finistère, with its dramatic headlands and deserted beaches or see life through rose-tinted glasses with a trip to the Pink Granite Coast where this extraordinary stretch of coastline has to be seen to be believed.
Aer Lingus Regional flights from Shannon to Rennes start from €59.99 one way including taxes and are available for booking on www.aerlingus.com.