Like many other Irish people I've flown into Malaga on numerous occasions but as soon as I put a foot on Spanish soil I high-tailed it to the resorts north and south of the city.
Like many other Irish people I've flown into Malaga on numerous occasions but as soon as I put a foot on Spanish soil I high-tailed it to the resorts north and south of the city. Malaga situated along the southeast coast of Spain is the capital of the Costa del Sol. Most visitors see it as nothing more than a transit point to resorts such as Nerja, Marbella and Torremolinos, while it's actually a perfect city break destination in its own right.
It's no Barcelona or Madrid but that's where Malaga's charm lies. The city is small and easily explored on foot or by bicycle making it manageable to experience the city properly in just a few days. The old town is a maze of narrow pedestrianised streets and charming Spanish plazas with terrace bars. It has a relaxed vibe and friendly locals; so friendly that they clap and cheer at tourists as they pass on bicycles like they were cheering on competitors in the Tour de France.
The city also boasts leafy boulevards, impressive historical sites, good shopping and high quality food and wine. It's most famous wine is a heavy golden muscatel. The best place to try it is in an old fashioned bar like Antigua Casa de Guardia at Almada 18 which hasn't changed much since it opened in 1840.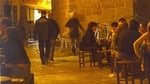 Another of the city's assets is its benign climate which makes it a warm destination even in winter. Piercing blue skies are the norm. One local told me that Malaga was blessed with 'one summer and three springs'. On my visit this October temperatures averaged 27 degrees.
One of the city beaches, La Malagueta, is just a 15 minute walk from the city centre and is perfect for sunbathing and a refreshing dip in the Mediterranean. On one side is the port where the big cruise liners dock and on the other is rolling hills and residential areas. Lunch in one of the chiringuitos (beach bars) is a must.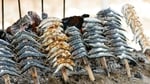 The rustic chiringuitos' speciality is barbecued fresh sardines which taste like they have just being caught ten minutes prior. The barbecues are made from old boats filled with sand and the sardines are skewered in groups of five and are cooked upright before being served with a salad. It's the perfect lunch and costs just €3.50.
On the way back to the city take a stroll though 'Paseo del Parque' which is an outdoor botanical garden that was created at the end of the 19th century on reclaimed land. The gardens are lush and green with over 3,000 species of plants. There is a small outdoor amphitheatre where movies and concerts are staged. I stumbled across a group practicing a tradition type of music called 'verdiales' which is a form of flamenco born in the olive growing regions near Malaga. Every Sunday a group of about 20 enthusiasts gather in traditional costumes beside the statue of a verdiales musician and jam. They sing and dance and play guitars and different types of percussion instruments. It's energetic and is exciting to watch.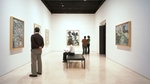 But Malaga's biggest cultural draw is Picasso. He's more often associated with Madrid and Barcelona but was actually born in Malaga and lived there for the first ten years of his life. The young Picasso is said to have taken objection to his parent's decision to move to rainy Galicia. He once said "to be a Cubist you have to have been born in Malaga", referring to the city's beautiful light. In 2003 the Picasso museum was opened as a result of donations by his grandson and daughter-in-law. Two hundred and eighty five of the artist's works are on display and the exhibition encompasses every period of his prolific career. The gallery is housed in a 16th century palace and in the basement there are Roman ruins on display which were only discovered in 1989 when the site was being renovated.
Just a short walk away is Plaza de la Merced where Picasso grew up. His birthplace is now a Picasso research centre and houses exhibitions with memorabilia that fans find fascinating. While on a cycling tour around Malaga our guide, Kay Farrell, told us how Picasso named his scallop-eating neighbourhood as the "the suck and throw quarter".
Kay hails from England and set up Malaga Bike Tours three and a half years ago. Her tour goes around the old town, the botanical gardens and to the beach. She clearly loves Malaga and is knowledgeable about its history as well as local trivia. She told us stories of the Irish man, Robert Boyd, who along with 48 others were shot dead after a failed liberal uprising in 1831. She also showed us the home of Hollywood actor Antonio Banderas and the church where he was christened.
By chance our cycling tour came across a flamboyant religious procession complete with brass band and devotees carrying a platform, known as tronas, with huge figurines of Jesus on a donkey. Over Easter week or Sema Santa as it's known, there are six or seven similar processions each night with big crowds watching. Antonio Banderas says his first experience of theatre was at the dramatic celebration of Sema Santa. He regularly returns home to take part in these processions.
Kay put it perfectly when she said "Malaga is like a rough diamond, beautiful but not glitzy". Somehow I don't think it will be long before city breakers start seeing it as a destination in itself and appreciate this uncut diamond for its special sparkle.
Deirdre Mullins
You can tailor a city break to Malaga with Flexibletrips with a 2 night stay at Hotel Petit Palace for €289 per person sharing including a shuttle service transfer. An extra night will cost from €64 per person. A 3 star hotel closer to the beach starts at €194 per person sharing including shuttle transfer with an extra night from €26.00 per person.
Flexibletrips is a new product from Thomas Cook Ireland known as 'dynamic packaging', which allows holidaymakers to configure short breaks and tailored holidays by drawing on Thomas Cook's large bank of accommodation around the globe. Visit www.flexibletrips.ie, call 0818 211 711 or contact your local travel agent.
For more information on Spain visit www.spain.info
Recommended Attractions
Wine Museum - http://www.museovinomalaga.com
The museum offers a journey through the history and culture of the wine of the province of Malaga, famous for its Moscatel sweet dessert wine. Entry includes wine tasting.
Museo Picasso – www.museopicassomalaga.org
Based in the restored Palacio de Buenavista, a National Monument, the collection comprises of 285 works by Pablo Picasso.
Malaga Bike Tours – www.malagabiketours.eu
The Malaga bike tour is the perfect way to explore the winding streets of the historical centre, the promenade and the boulevards of El Parque.
La Alcazaba
This impressive building which once had the job of protecting the city was built mostly in the 11th century as the palace-fortress of the city's governing Muslims. A first century B.C Roman Theatre is situated at the foot of La Alcazaba.
Recommended Restaurants
Strachan Restaurant – www.strachan.es
Centrally located, Strachan specializes in Nouvelle Mediterranean cuisine offering a large selection of local dishes from tapas to paella.
Parador de Gibralfaro – http://www.parador.es/es/parador-de-malaga-gibralfaro
Situated on Mount Gibralfaro overlooking the Bay and city of Malaga, the restaurant offers a variety of Andalusian cuisine such as the fried ''pescaítos a la malagueña' (small fried fish) a delicacy of the region.
Bodego El Pimpi – www.bodegabarelpimpi.com
This famous meeting place allows visitors to sample local wines and delicious tapas, the décor consists of Malaga's féria, bullfighting and wine barrels signed by Paloma Picasso, Antonio Banderas and many other Spanish artists.
RTÉ is not responsible for the content of external websites.