Norway sits on the edge of Europe with its head in the Arctic Circle and its skinny, fjordy feet in the cold North Sea. I have never, ever, had the slightest desire to go there.
Norway sits on the edge of Europe with its head in the Arctic Circle and its skinny, fjordy feet in the cold North Sea. I have never, ever, had the slightest desire to go there. Until my friend Elaine said that visiting a fjord was on her list of Top 100 Things to Do Before You Die and of course I said I would go with her, as you do to old friends, however mad.
We set off from Dublin on a Ryanair flight to Oslo for the ridiculously cheap price of €40 each way per person, taxes and stuff included! Not to Oslo main airport, of course, but to Brygge airport, an hour from the city. The coach to the central bus station costs about €20 euro and, believe me, that will seem cheap after a week in Norway.
Our 'semi-detached' Complete Norwegian Fjord Tour with Nordic Visitor Company was a week-long trip on trains, ships, coaches and boats with a boat journey into a fjord at its centre. I say 'semi-detached' because when you arrive in Oslo's Hotel Bristol you receive a carrier bag packed with vouchers for your hotels, buses, train, and boats etc, a fabulous Dorling Kindersley guide to Norway and personalised guides to each town on the tour. There's even a mobile phone to contact the office in case of an emergency. Apart from that, you are on your own.
It was late in the evening when we arrived, so our first thought was for a sandwich and a cup of tea. €60 later, we realised that starvation might be a better plan for the coming week. Luckily, breakfasts throughout the week were amazing – buffets with yoghurt, cereal, fruit, muesli, cereals, eggs, sausages, breads, crispbreads, cold meats, cold cheeses and Norwegians' favourite - cold herring. That first morning, we forgot to smuggle a roll and cheese out for our lunch. We soon learned.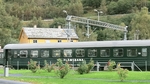 For the six-hour train journey to Trondheim we enjoyed our fabulous pre-booked seats right beside the lounge – free teas and coffees, which were constantly replenished, free newspapers (alas, in Norwegian) and best of all, two giant, swivelling tub chairs for comfortable scenic viewing!!
Trondheim is rainy. Like all Norwegian cities, including Oslo, it is small by our standards. So were our rooms at the Britannia hotel but the splendiferous spa in the basement was bliss. Next morning, we took a taxi the short distance to the dock to board our tour ship. Our kind taxi driver explained that there was a minimum taxi fare so he would go the long way round and give us a tour of the town. Think that would happen in Dublin??
Our Hurtigruten ship was big but its cabins were small. I mean, tinchy, tiny small. How the rather large American tourists on board managed to have a shower was beyond me. Roast reindeer was on the dinner menu, but we opted instead to leave the ship at Kristiansund , take a coach tour of the surrounding area and rejoin the ship at Molde.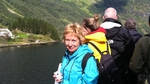 We spun around the Atlantic road and looked at beautiful scenery until we came to a restaurant serving bacalao (salt-encrusted cod in a tomato sauce) – not as guilt-inducing as reindeer! Next morning, smothered in anoraks and blankets on deck, we enjoyed hours of gazing at the grey, rainy sea – seriously, really enjoyed – as it's very peaceful and rest-inducing. Someone could make a video of the sea along the coast of Norway and it would hypnotise people into a state of relaxation.

We had lovely rooms in the Thon hotel in Bergen with balconies where next morning you could gaze over the rooftops and watch Bergeneers (Bergenonians?) schlep to work in the squelching rain. And rain it did. As one wit told us in the bar down by the medieval harbour area of Bryggen – a place not to be missed – "it only rains 365 days of the year in Bergen, the rest of the time it's dry".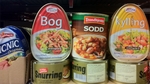 We had two nights in Bergen – plenty of time for me to visit three museums and a supermarket (see photo of product names which I enjoyed) and for Elaine to be far smarter and discover the whereabouts of a spa which was only an hour's bus journey away.
The Solstrand Spa hotel is in a place called Os and you take the number 600 bus from Bergen, rather than a yellow brick road to get there. It is on the shores of a fjord. We are Irish, it is raining and of course we decide to get into our togs and walk through the rain to the jetty and go down the stairs and jump backwards into the fjord. That is Elaine's fault entirely. I swam in a fjord which is about 3 million miles deep. In the rain. I am a lousy swimmer. I am ecstatic.
Next day we start the train journey which will take us to the highlight of the trip. In the course of one day, we will be taking a train to Voss, a coach journey down one of the most precipitous roads in the world and a boat ride on Sognefjord. Our bus driver, while quietly taking us down a wriggly road with a drop of several thousand feet without panicking while the rest of us are hyperventilating with fear, pointed out some spectacular waterfalls. I asked him if they froze over in winter and he said they did and when they do, the locals (obviously all mad) have fun climbing up them. Obviously it's a long winter in Norway and it gives you something to do. Walking up a waterfall. What a lark. Not.
We arrive safely at the bottom of the valley and board a small boat for our great fjord adventure. The journey, despite a roaring wind which would cut you in two, was incredible. We slowly glide along the fjord, stopping now and then to deliver post to local houses or to deposit people along the way. It is absolutely, stunningly gorgeous. I really don't know how Norwegians manage when they get into cities and have to leave this beauty behind them.
The tiny village of Flam is at the end of the fjord. It has a little red toy train that takes you from the port with its hotel and few shops into the old village. Or you could walk. Everyone seems to be walking. They are of course, healthy-looking, dressed down in anoraks and walking boots, no makeup and some, but not all, are startlingly blond. It's a heavenly country for middle-aged women, by the way. They are strong and wiry and look as if they have walked everywhere all their lives. And even the younger ones are dressed down. Not a single one in heels and no-one, no-one at all, in fake tan. The coolest teenage girls I saw wore our outdoor concert event gear of wellies with long socks or tights and short shorts as daywear.
The Fretheim hotel is amazing. The buffet that night was by far the best meal of the trip, if not one of my favourites of all time. We decided to go mad and share a bottle of wine for a mere 60 euro. That's cheap by the way. The meal was made even nicer by the totally lovely Swedish waiter who insisted on giving us leftover wine from other peoples' bottles. And he insisted on dancing with us, despite the fact that there was no music. Who said Nordic people are dour?
The following afternoon, we took the extremely long walk from the hotel to the little station (all of a minute) which took us on one of the most beautiful train journeys of the world. It goes from Flam to Myrdal, taking about an hour and stops several times along the way so passengers can take photos. You just sit and gasp at the view on one side and then turn to the other side and gasp again and generally spend the time gasping, apart from the bits when you gasp at the thought of the Norwegian navvies who built this railway through mountains in the freezing cold of the Norwegian winters in the 1900s.
Then it was a long train journey back to Oslo, arriving late to the hotel. The following day was unbelievable – pure blue, really hot and the city looked astounding under the cloudless sky with the water surrounding it making it even more magical. We took the water taxi out to the Viking museum and marvelled at the strength of the men who took to the seas and who lived, ate, slept and survived in boats with no shelter, no maps and nowhere to cook.
We had grandiose plans for seeing more of Oslo, but ended up in one of the many restaurants and cafes along the waterfront soaking up the hot sun in mild disbelief that Norway could be so warm. We ambled along the length of the harbour and saw where they are building an entire new quarter where the fjord comes trickling in to the city. The place was full of half-completed new apartments and the skyline was dotted with cranes. Where did it remind of for a minute? Oh yes, Dublin a long time back.
The next day we were on the coach back to the airport, tired from a busy seven days and a lot of journeying, but exhilarated from the experience. The water all over Norway is crisp and clean and sharp and leaves you feeling healthy. The country leaves you feeling exactly the same way.
Carolyn Fisher