For Deirdre Mullins the Dutch capital is interesting, quirky and always entertaining.
We all know about the many ways that one can get thrills in Amsterdam - an image that the tourist board is desperately trying to move the city away from. But if you turn your back on the coffee shops and red light district you will find that a completely different city opens up. It's a city so diverse that most people will find something to enjoy; whether it is food, nightlife or world class galleries and museums.
First thing to do on arrival is get a bike. To pass as a local you need to find the most battered and rusty one available. Otherwise, do as I did and hire a bike that's so shiny and new that there is no hiding the fact that you're a tourist. The advantage of this is that the locals are slightly more forgiving when they find you cycling the wrong way up a one way street.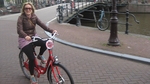 Cycling is the fastest and cheapest way to get around the city and once you get used to the trams and traffic it's a lot of fun. You can really lose yourself cycling through the city's narrow cobbled lanes and over its bridges and canals. The Western Canal Belt is famous for its stately homes, intimate cafes and speciality shops, while the Southern Canal Belt is more diverse and populist. It's home to the gay scene and to the two major nightlife districts: Leidseplein and Rembrandtplein.
There is nothing like seeing the city from its canals and there are many tour companies offering hour-long canal trips - if you're lucky a local will offer you a ride in one of their own smaller boats. Cruising on the water gives you time to inspect the crooked houses that line the canals and give the city character. There are over 21,000 houses in Amsterdam that are protected by a 'non-straightening' preservation policy, resulting in a distinctly crooked sky line.
Another popular mode of transport is roller-skating. A weekly skate night takes place every Friday, weather permitting. Hundreds of skaters meet at 8pm near the Filmmuseum in Vondelpark before heading off on a 15 or 20-kilometre skate. It's a great way to meet the locals and explore the city.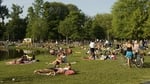 At the same time the skaters meet, the audience is gathering for the Friday night open-air movies which are screened at Filmmuseum. English is almost as common as Dutch in Amsterdam, so most of the movies are in English. The Vondelpark Open Air Theatre has free shows during the summer, packed with dance, cabaret, children's theatre, comedy and all genres of music. But don't forget to visit Vondelpark during the day: locals jog and play soccer, while couples canoodle and children feed ducks. Go for a stroll around its rose gardens and ponds or just laze on the lawn.
You can incorporate a visit to Vondelpark with the Museumplein which is a large. grassy park bordered by two of the most popular museums in the city. The Rijksmuseum houses a large collection of Rembrandt's work along with other Dutch masters. There are 5,000 paintings on display in 200 rooms so be selective about what rooms you want to visit.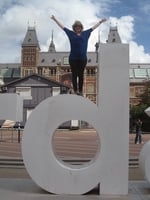 Just next to Rijksmuseum is the Van Gogh Museum, which is one of the city's biggest tourist attractions. The queues are often lengthy so try and pre-book your tickets to gain direct entrance. The museum features many of Van Gogh's best works alongside a biography of his life. It's laid out in chronological order, allowing us to track the painter's triumphs and troubles - most notably the psychiatric problems which led to him cutting his ear off and his death by suicide. The 'I amsterdam' sign is in front of the Rijksmuseum and is fun to climb - a great Amsterdam photo opportunity.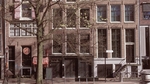 Back on the Western Canal Belt is the Anne Frank House, which is visited by more than a million people each year. Many find it to be an anti-climax, but I found walking up its steep stairwells and around the poky rooms to be a very sobering experience. Again, like the Van Gogh Museum, the queues are long so buy tickets online before you go.
If you want a bit of cheering up after Anne Frank's house, head to Leidseplein for an English-language improv comedy show called Boom Chicago. As the name suggests, it's a very American experience with American performers and American food served during the show. This was something that I didn't expect to be a top tourist attraction in a Dutch city. Nevertheless, it's a good improv show with plenty of audience participation.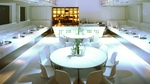 Or you could choose to spend the night in the weird but wonderful Amsterdam Supperclub, a pricey and hip restaurant with live DJs and offbeat performance art. It's not a restaurant in the conventional sense - my meal was served to me by a waiter dressed in female gimp gear and wearing six-inch heels. Cutlery was exchanged for a rubber glove and I ate my dinner from a white linen bed.
In many ways the Supperclub epitomises what Amsterdam is for me; interesting, quirky and always entertaining.
Deirdre Mullins
Deirdre went to Amsterdam as a guest of the Dutch Tourist Board and Aer Lingus.
For more information about Amsterdam visit: www.holland.com.
Aer Lingus has daily flights to Amsterdam from Dublin and Cork. Prices start at €34.99. Visit: www.aerlingus.com.
Deirdre stayed at the Hotel NH Museum Quarter: www.nh-hotels.com/nh/en/
Top Tip: It's well worth buying an 'I amsterdam' card. A 48-hour card is €49 and gives you free transport, free or discounted entries.

RTÉ is not responsible for the content of external websites.