Tadhg Peavoy visits the Soul of Asia.
When I arrived in Seoul it was 9am on a Wednesday and a grey fog cloaked the city. That cloak was draped over the metropolis for much of my stay. For me, it became a symbol of South Korea's capital: alluring yet mysterious.
Weighing in with a massive metropolitan population of 20.5 million, Seoul is the second-largest urban area in the world.
Seoul is like London, Paris or New York, in that it does not have just one centre, but many centres dotted across the conurbation. Getting to know the different hubs of the city is part of the challenge - and enjoyment.
A great area to base yourself in is the centrally located Jongno-gu area. I stayed at Bukchon Guesthouse, a traditional hanok-style home. Bukchon Guesthouse is one of many guesthouses in the area – another I stayed at was Seoul Guesthouse, which is similar, only better.
Hanoks are the traditional Korean dwelling and consist of a central courtyard onto which all bedrooms lead. Hanoks generally don't have beds, instead one sleeps on a thin mat on the floor.
The pillows in hanoks are small, wooden blocks with some padding. If you don't fancy that, there are plenty of hotels in the area.
The Seoul subway is new, clean, safe and twice the width of European subways. It can also bring you virtually anywhere in the city for next to nothing.
Most of the attractions you'll want to see first are close to the Jongno-gu area. Seoul Guesthouse is located in Bukchon Hanok Village, which is a collection of traditional Korean buildings used by their inhabitants, but preserved from modernisation. The area dates back to the Joseon Dynasty and is one of the best examples of traditional Korean architecture adapting alongside modern Korean design.
One of the defining sights of Seoul is the temples that are scattered liberally around the city. Two I would recommend are Changgyeonggung Palace and Gyeongbokgung Palace.
Gyeongbokgung was constructed in 1394 by King Taejo and was restored in 1867 after the Japanese invasion (1592-1598). The multi-coloured wooden pagodas, gardens and gnarled tree trunks are visually arresting.
Changgyeonggung was built in 1483 on the site of a retired king's home for three dowager queens. The Japanese destroyed much of it in 1592, but over the last 30 years it has been brought back to its former glory.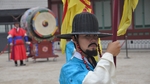 Seeing the changing of the guards at Gyeongbokgung is also highly recommended. The opening and closing of the palace gates are the most impressive times to see the changing of the guard – 10am and 3.30pm respectively.
Another wonderful example of traditional Korean architecture is a folk village called Namsangol Hanok Village.
Seoul was named World Design Capital in 2010 and the Dongdaemun Design Plaza and Park is a shining example of the city's ambitious new aesthetic. At the moment it's still under construction, but a visit to the information centre is well worth a trip. The centre explains in detail how this gigantic structure will be designed and covered in grass, much like an ancient-Irish burial mound.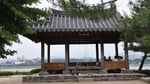 After all that culture, I wanted some exercise and took a bike ride along the Han River from the 2002 World Cup Stadium to Seonyudo Park. Seonyudo was once a water filtration plant, which has been re-designed into an urban park. It's a beautiful area and a leading example of how to turn an old industrial complex into a living, breathing, green public space. Bikes are for rent at the World Cup Stadium and the park is reached by cycling along the Han River bike-path.
Korean cuisine is delicious and reasonably hard to find in Ireland. In Seoul, the choice is diverse beyond belief.
A traditional dish is raw crab, which I ate in Insadong – an area of Jongno-gu. I ate the crab with salted beef, pickled radish, tofu broth and washed it down with rice wine.
Myung-dong is one of the main shopping areas of the city and after bagging some high-end clobber, you can grab a Far Eastern curry in one of the curry houses that line the sidestreets. I went for an unusual Malaysian clam curry at Akori Noodles.
I followed that with a red-bean ice cream in the local shopping centre. That's ice cream with a choice of fruit and Asian red beans. Think sweet and savoury.
If you are looking for a meal with wow factor in Seoul, then surprisingly, you should head for Seoul Express Bus Station and get the elevator to the top floor. When you get there you will walk out onto a roof-top restaurant.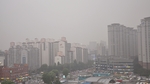 The view from the top takes in downtown Seoul and is a wonderful vantage point. The day I was there that famous fog covered the sky, but it was still special to look out and see endless high-rise buildings spread out before my eyes.
I ate Korean barbecue, which involves grilling your own meat on a small open fire on your table. Belly pork, potato, kimchi (Korean pickled cabbage), kimchi soup, tofu broth and garlic is a recommended combination. The meal was served with soju – a Korean spirit similar to vodka – and beer.
The most interesting food experience I had in the city was eating raw octopus at Noryangjin Fish Market.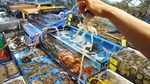 After a night on the town, an American photographer working in the country brought me to the fish market to sample the dish. His Korean was good and he brought me through the process of buying the octopuses, then going into a restaurant that leads off the market and asking to have them served up. The chef proceeded to take the head off the octopuses, before separating the ink sack and chopping the tentacles into small chunks.
They were then served up with a dipping sauce of red-pepper paste and chilli. The octopuses still had remnants of life in them and spasmed and moved around the plate. One needs to chew heavily before swallowing. Apparently, if not chewed adequately, the octopus can latch on to your throat when swallowed and cause asphyxiation.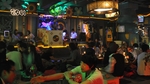 Drinking is a national pastime in Korea and there is no shortage of bars where you can enjoy a tipple. One of the best I came across was Rainbow Hookah Lounge in Gangnam. The bar is Thai-style, complete with Thai alcohol-buckets and a choice of hookah pipes to smoke. Order a rum bucket and apricot sheesha, then relax on cushions on the floor.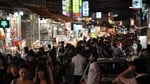 Another must-see nightlife area in Seoul is around Hongik University. It's a series of streets lined with neon. The area is full of trendy people, restaurants and bars. Whatever your musical taste, it will be catered for.
Koreans love karaoke and the area has lots of noraebang, where you can croon away to your heart's content. Late-night snacks are essential after a few drinks in the area. Head into one of the restaurants that open out onto the street and order pressed fish with rice-cake noodles and mozzarella.
If you're feeling a little tender the next day, I recommend a trip to a jimjibang. These communal saunas are a Korean institution. Leave your possessions in lockers, then head inside to enjoy a selection of mineral baths, saunas and massages. At the best-quality jimjibang you can settle down for a meal. Many people stay the night, sleeping on the floor in the well-heated communal rooms.
By the time I left Seoul, I had just begun to get the feel of the place. Part of its intrigue is its size, which means you are constantly discovering new things and would never know the city inside out.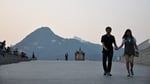 Another part of the intrigue is the lack of English speakers. While there are 17,000 English teachers in the country, there is a still a large proportion of the population that seems to speak little to no English. It's never that hard to communicate though as the Koreans, although sometimes laconic, always try their best to help out. Seoul is an off-the-beaten-track sort of place, which is a massive plus point in its favour.
For more information about Seoul, visit: http://visitkorea.or.kr or http://visitseoul.net.
Tadhg Peavoy
RTÉ is not responsible for the content of external websites.