At 5,895m (19,341 feet), Kilimanjaro is the world's highest freestanding mountain. Unlike other mountains of this size it doesn't demand climbers have prior mountaineering experience and because of that both fair-weather hikers and serious mountaineers come in their thousands to climb it every year.
At 5,895m (19,341 feet), Kilimanjaro is the world's highest freestanding mountain. Unlike other mountains of this size, it doesn't demand climbers have prior mountaineering experience. Because of this, both fair-weather hikers and serious mountaineers come in their thousands to climb it every year.
Around 25,000 trekkers will climb Kilimanjaro this year and an estimated 10% of them will be Irish.
I climbed Kilimanjaro three years ago. I made it to the top but just about. I had no prior training and wore unsuitable gear and suffered from altitude sickness. Needless to say, I'm not a good example of how to do it.
Perhaps my experience may have been more enjoyable if I had spoken to Kieran Creevy before my trek. Kieran is an International Mountain Leader who has climbed Kilimanjaro nine times. He describes himself as a "gear nerd" and he works in the Dublin outdoor specialist shop Great Outdoors.
I met Kieran and he told me how one should prepare to climb Kilimanjaro.
This is Kieran's ultimate guide for climbing Kilimanjaro.
Choosing an Operator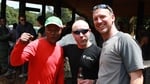 It's important to note that you can't turn up at the base of a trekking route on Kilimanjaro and climb to the summit on your own or with a group of friends. You must employ a local guide, team or tour operator in order to get a permit to climb the mountain. Local tour operators organise all the necessary permits for the mountain, as well as hiring the local staff.
If you're joining a group make sure that the agency works only with local operators that have signed up to either: IMEC Partnership for Responsible Travel or the Kilimanjaro Porters Assistance Project (KPAP). These companies have agreed to certain terms and conditions, including paying their porters a fair wage.
Check if there will be an expedition doctor on the trek. Food is very important to the hiker, so ask about the food and if it's cooked by a trained chef.
Also enquire about the ratio of porters to clients. The ideal is 2.5 porters to one client.
Always go for the longest trek you can. The slower you ascend, the more time you have to acclimatise. Your body will adapt to the altitude better and the greater your chances of reaching the summit safely.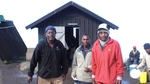 If you have a choice of in-flight connections the best is Dublin-Amsterdam-Kilimanjaro International. Expect to pay around €2,500 for an all-inclusive package with good medical backup, flights, high ratio of guides/porters to clients, varied meals, good equipment, and decent hotels before and after the trek.
Companies that Kieran recommends are: Kilimanjaro Challenge (UK), Adventure Alternative (UK), Across the Divide (UK), Ian McKeever (IRE), Zaras Planet (IRE), Ashante Tours (Tanz), Summits Africa (Tanz) and African Walking Company (Tanz).
Best Time to Go
The best time to go is from January to the middle of March and from June to October. It's best to avoid the rainy seasons which are mid-March to May and November to the end of January. August is peak time for climbing Kilimanjaro, so it's usually more expensive because of increased air fares.

Choosing a Route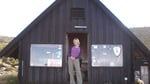 Huts are only available on the Marangu route, which is one of the busiest of all the routes. Many operators run their Marangu treks over five days, which can be too fast for proper acclimatisation. If you're booking onto a Marangu trip, opt for the six-day trek.
Machame is starting to get as busy as the Marangu route. Machame usually takes six to seven days and the route has a great variety of scenery and a relatively easy descent.
Lemosho takes six to eight days and the added benefit of a longer acclimatisation time. But, of course, the extra days will cost you more. Lemosho also has the potential for side excursions, if you have the energy.
Rongai takes six to eight days and is quieter than other routes, with more wildlife and different flora.
Don't Leave Home Without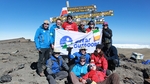 Waterproof jacket and trousers are essential. Expect to pay from €100 for a decent jacket and from €50 for a pair of trousers. Don't bother with a jacket for €20 which may be waterproof but won't be breathable so you'll get wet from the inside out.
Shoes or runners are fine for the evening time around camp, but a good pair of hiking boots is recommended for the climb. Mid-weight boots from brands like Scarpa, Salomon, Meindl are best. They will cost you around €150.
An insulated jacket is essential for summit night and very useful for evening time around camp. After the first night the temperature can drop below zero once the sun has set. A good jacket can cost between €200 and €350, but if you're unlikely to use these kinds of jacket again you can rent one from Great Outdoors. Great Outdoors is the only retailer in Ireland that rents gear.
In the sunshine, a peaked hat with neck flap or wide brimmed hat, factor 30–50 sunscreen, sun factor lip balm and category three sunglasses are recommended. And for the cold a warm wool or fleece hat, balaclava and thin liner gloves that will be worn under heavy mitts.
Night times will require a -10c to -15c comfort sleeping bag. A good down bag costs around €250. This is also rentable from Great Outdoors.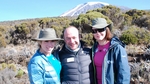 Between 4-6 litres of water per day is what the body needs when trekking at altitude. This is because breathing becomes harder and more frequent as the body adapts to the altitude and the air is drier. Another reason to stay well hydrated is that you are far more susceptible to altitude sickness if you're dehydrated.
A good rule of thumb is: if your urine is clear in colour then you're well hydrated. If it's orange, then you're dehydrated and you need to get at least a litre of water into you promptly.
For carrying water, have a mixture of a 2-litre Camelbak water bladder (with insulated tube) and a 1-litre Nalgene bottle. Some climbers have an issue with using bladders in sub-zero temperatures, citing frozen tubes on summit night. However, if you get into the habit of blowing until you hear bubbles every time you're finished drinking then there's no water in the tube and little risk of it freezing.
See below for a link to a full gear list and for details of Great Outdoors gear rental programme.
Tips to Keep Warm
If it's cold fill up your Nalgene bottle with hot water and roll it in a fleece hat for it to become a hot water bottle.
Don't wait until you're cold before heading to bed, as you'll end up shivering for ages before you warm up. It's far better to run on the spot or do some star jumps until you're warm and then get into your bag.
Comfort Items
You'd be surprised how many people snore at altitude so pack ear plugs.
Another valuable item to help you get some sleep is an eye mask. This comes in very handy when you're trying to get a bit of shuteye at 4pm before the summit attempt.
For a makeshift pillow bring a pillowcase from home and stuff it with clothes or buy an inflatable one.
There are no showers on the mountain so wet wipes are a good substitute.
It's essential to increase your calorie intake to about 3,000 to 4,000 calories per day so always have a bag of nibbles (nuts, dried fruit, jellies and chocolate) in your day bag. Get these before you leave Ireland as you might not have time to buy this in Moshi or Arusha.
Altitude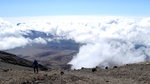 The chances of summiting are far higher, if you move slowly, stay well hydrated, eat and sleep well. On every Kilimanjaro trek Kieran has guided he has had to turn clients back prior to the summit. If a trekker shows signs of serious altitude sickness (dizziness, nausea, vomiting, severe headaches) then they should be turned around immediately and made descend with the help of a porter.
Training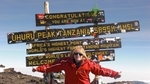 The fitter you are the easier your body will cope with hard physical effort of climbing Kilimanjaro. However, many fit trekkers fail to reach the summit because they find the first few days easy and move too fast for their bodies to adapt to the altitude. The general rule is fit is good but fast is bad.
Aerobic gym work is great preparation for Kilimanjaro. Forty-five minutes to an hour on the treadmill, bike, rowing machine or in the swimming pool two to three times a week is perfect. It's a good idea to do a four to seven-hour hike on the mountains every weekend too. If you're heading out onto the hills carry what you'll have in your Kilimanjaro day bag to get used to the weight. A day bag should weigh about seven to eight kilogrammes and include a waterproof jacket and pants, fleece, beanie, head torch, first aid kit, food, two litres of water and liner gloves.
If you have the opportunity to get out on the hills at night before your trek, do so.
Final Tip from Kieran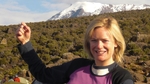 While it may feel like the hardest challenge you've ever attempted, don't give up if you're capable of continuing (with advice from your guide/doctor). Once you've stood at Uhuru peak and descended back to camp you'll begin to really appreciate what you've achieved.
When Kieran was asked why he likes to guide climbers on Kilimanjaro again and again he responded: "It's for the thrill of seeing a smile break out on their [climbers] faces at the summit or back in camp. Knowing that despite the hardship, there's elation on the summit and that this experience will be with them forever, and may lead to further explorations."
For a full gear list recommended by Great Outdoors and for details of their gear rental programme visit: www.greatoutdoors.ie/kili.
For detailed information on altitude and general medical advice for climbing Kilimanjaro, contact the Tropical Medical Bureau: www.tmb.ie.
To read about Deirdre Mullins' experience on Kilimanjaro click here.
Deirdre Mullins
RTÉ is not responsible for the content of external websites.