As driving holidays go, there are few better than trawling through California along the Pacific Coast Highway (PCH), which runs from San Diego to San Francisco and beyond.
As driving holidays go, there are few better than trawling through California along the Pacific Coast Highway (PCH), which runs from San Diego to San Francisco and beyond.
The Central Coast stretches south from San Francisco to the wine-producing region north of Santa Barbara and is blessed with stunning scenery and pretty towns and resorts as you wind your way down along this sensational ocean drive.
Santa Cruz
An hour's drive along the coast south from San Francisco sits the surf city of Santa Cruz. A classic seaside town complete with fairground, pier and top class beaches, there is a very laid back vibe around the town and it's a great place to chill for a few days to enjoy the excellent beaches and perhaps take a surf lesson.
The fairground dates back to the early 1900s with a rollercoaster that appears just as old. All the old reliable stalls are there waiting to take your dollars as you pitch baseballs at stacks of cans – in vein – trying to win prizes you know won't fit in your suitcase.
The pier is packed with souvenir shops and provides a great viewing point as you look back at the beach or out to sea where the surfers can be spotted in the distance. Also keep an eye out for the scores of lazying seals sprawled below the pier enjoying the afternoon sunshine keeping pace with the rest of the town.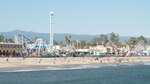 Before you leave Santa Cruz, drive out to the Natural Bridges State Beach to see the impressive wind-and water-carved sandstone arch.
Monterey
The PCH leaves Santa Cruz, arcing around Monterey Bay to the historic town of Monterey and neighbouring Carmel.
Arriving early in Monterey, a quality breakfast can be had at First Awakenings, which will set you up for your day's exploring with the Monterey Bay Aquarium one of the top attractions in the town. Here you can watch rescued sea otters swim, play, and groom in their naturalised exhibit. Countless fish species, birds, invertebrates, octopi, reptiles, penguins and sea otters are also on show.
And a visit to Monterey would not be complete without a stroll down Cannery Row, the waterfront street once crowded with sardine canneries, which was featured in John Steinbeck's famous novel Cannery Row.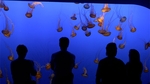 The old tin-roof canneries have been converted into restaurants, art galleries and shops, with plenty of viewing points where you can enjoy watching a beautiful Californian sunset.
Pebble Beach
One of the highlights of my trip, and a must for any golf or sports fan, was taking the scenic 17-mile drive that winds through an 8,400-acre microcosm of the Monterey coastal landscape arriving at the amazing Pebble Beach Golf Links, where Graeme McDowell won the 2010 US Open.
The golf resort at Pebble Beach is the American equivalent of St Andrews in Scotland boasting one of the most picturesque and challenging courses in the world.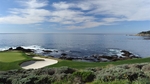 Playing a round here will comfortably account for at least half your holiday spending money so perhaps a stroll down through the clubhouse and out to the 18th green to follow in the Portrush native's footsteps will have to suffice.
Big Sur
Once south of the Monterey peninsula, the next fifty or so kilometres to Big Sur are a driving paradise as you soar above the Pacific Ocean with the PCH hugging the rugged coast providing breathtaking views at almost every bend in the road.
The Big Sur region is renowned as a 'healing place' amongst new age enthusiasts and was a favourite retreat for author Henry Miller, while the Nepenthe restaurant, once owned by Orson Wells and Rita Hayworth, provides great ocean views and is popular with both tourists and locals.
Hiking and trekking enthusiasts can base themselves here for days of amazing trails into redwood forests and to waterfalls at Julia Pfeiffer Burns State Park.
Another highlight of the Big Sur route is the spectacular Bixby Bridge, which dates back to 1932 and spans a large canyon just 25 kilometres south of Carmel.
South of Big Sur
Once past Big Sur the Central Coast stretches down and around to the beautiful town of Santa Barbara.
The wineries in Santa Ynez Valley are well worth a detour inland to enjoy the amazing vistas and hospitality that were made famous in the Oscar-winning film Sideways.
The coastal village of Cambria is filled with structures that survive from its 19th century heyday as a centre for whaling, mining, and logging and is the gateway to Hearst Castle, one of California's most visited attractions, where you can marvel at this Mediterranean-style estate with enchanting guest houses, gardens, pools and terraces.
And just five kilometres south of Pismo Beach, sits the awesome Oceano Dunes, which is a 1500-acre coastal sand dune where visitors can enjoy camping, surfing, swimming, surf fishing, and hiking. The Lake Trail includes a boardwalk through the dunes to the lake, where there is also an accessible fishing bridge.
You can also drive up to the Big Caliente Hot Springs located within Los Padres National Forest, just north of Santa Barbara, where you can relax in the naturally warmed spring waters.
The perfect ending to an amazing adventure along the central coast of California.
For more information, visit www.visitcalifornia.co.uk
Ed Leahy