With thousands of kilometres of coastline and hundreds of beaches to choose from, the Irish are spoilt for choice when it comes to hitting the seaside.
With thousands of kilometres of coastline and hundreds of beaches to choose from, the Irish are spoilt for choice when it comes to hitting the seaside. And this year 82 Irish beaches and two marinas have received the International Blue Flag award. So while this is not a definitive list of the best beaches in Ireland, it should at least give you reason enough to fill up that picnic basket and head for the coast.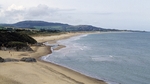 Brittas Bay, Wicklow: Located less than an hour from Dublin city centre, Brittas Bay is one of the most popular beaches on the east coast of Ireland – and with good reason. With over five kilometres of beautiful white sand dunes and clean beaches, Brittas Bay is a perennial Blue Flag beach and swimming conditions are usually excellent year round. Impressive panoramic views of the magnificent sand dunes will make you feel like you are a long way from the madness of the city and being a designated area of significant interest, Brittas is home to many interesting wildlife species and plants. Local attractions include Avoca, the Wicklow Mountains and Glendalough.
Rosapenna, Donegal: The north coast of Ireland is blessed with a plethora of picturesque beaches and while the trek to the northern peninsulas of Donegal can be a bit daunting, once you arrive, it will all make sense. Rosapenna Beach is just one of the many amazing beaches to be found throughout this rugged region of Ireland. The nearby Tramore Strand is secluded and serene, and an idyllic location on a sunny day, while golf lovers will be spoilt for choice as the Old Tom Morris Links in Rosapenna is one of the best courses in Europe. There are a wide range of good hotels and guesthouses in the area, while camping and caravan facilities are also available.
Inchydoney Beach, Cork: Without doubt one of the most dramatic and scenic beaches in the country, Inchydoney makes for the ideal getaway and proves very accessible, as it is located just outside Clonakilty in west Cork, less than an hour from Cork city centre. The Inchydoney Resort & Spa overlooks the sprawling strand and could make an ideal base for exploring the always-exciting Rebel County coast. And don't forget to stop off in Clonakilty en route for a black pudding breakfast.
Keem Bay, Achill Island, Mayo: Another picture-postcard beach tucked away in a remote corner of Ireland, Keem Bay is located on the western tip of Achill Island. Trawmore Strand is probably the best-known beach on the island and is popular with both swimmers and surfers. Dugort's Silver Strand and Golden Strand are also Blue Flag beaches, while Dooega boasts fantastic southern views of nearby Clare Island. The beaches are only one of the reasons to visit Achill as it is renowned for stunning scenery throughout with amazing ocean views from some of the highest cliffs in the country. Nightlife in Achill is another reason to visit, especially in the summer months when you are likely to hear some of the finest traditional music in any of the many pubs scattered about the island.

Dog's Bay, Galway: About an hour from Galway city, this spectacular horseshoe beach is a true Connemara gem. The villages of Roundstone, Ballyconneely and Clifden are all nearby and make for a great weekend or week-long break in one of the nation's favourite holiday destinations. But don't just stop at Dog's Bay, as you will find yourself in splendid isolation all along the Connemara coast, with many smaller, but no less pretty, beaches dotted throughout this Atlantic Ocean coastline.
Lahinch, Clare: The town of Lahinch is dominated by the sprawling strand that runs the length of the town and beyond. A favourite place for beginner surfers, the town is lively throughout the summer and is surrounded by a wide range of attractions including the ever-impressive Cliffs of Moher and the Burren. More experienced surfers are well catered for along the coast around the Doolin area, while many seaside resorts are dotted all along the Clare coast including Doonbeg and Kilkee where another crescent shaped beach of golden sand is a must see when in the area. This stretch of coastline also has a number of interesting cliff walks.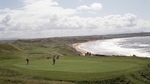 Ballybunion, Kerry: Home to some of the finest beaches in Ireland, to pick the best beach in Kerry is always going to be a controversial choice. Ballybunion is home to two Blue Flag beaches and some amazing rock formations, sea stacks and other geological features. Some of the local attractions include the Nun's Beach, the Virgin Rock, the Devil's Castle and the Nine Daughter's hole, not to mention the two Championship golf courses, where Bill Clinton might happen to be strolling either track. Elsewhere, Inch was the beach location for Ryan's Daughter, and Banna Strand was where Roger Casement came ashore from a German submarine in 1916. Elsewhere in the Kingdom, other beaches worth visiting include, Derrynane, Ballyheigue, White Strand, Kells, Rossbeigh, Ventry, Fenit, Magherabeg and Ballinskelligs, which is a designated natural heritage area.
Dollar Bay, Wexford: Can a beach make a list on the basis of name alone? Well, it can when there is treasure buried there. Everyone loves a good pirate story so make your way down to Dollar Bay on the Hook Peninsula, where pirates buried two tonnes of Spanish-milled dollars in the mid 1700s. Dollar Bay is excellent for families with a fine sandy beach, with cave and rock pools to explore. Rosslare is Wexford's best-known Blue Flag beach, while further north up the coast Courtown and surrounding beaches are still proving very popular.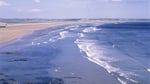 Tramore, Waterford: Another beach that has witnessed a bit of a renaissance since the surfing phenomenon swept through the country, Tramore has five kilometres of golden, sandy beach surrounded by the Atlantic Ocean. The long rolling waves in Tramore are ideal for surfing novices, while lessons and equipment are available locally. Sailing and sea kayaking are other popular water sports in the area. Other Deise County beaches to visit include Dunmore East beach, where you can enjoy swimming or snorkelling, the popular Counsellors strand and Newtown Cove, which is a haven for strong swimmers and divers. Keep an eye out for the Metal Man keeping watch on top of the cliffs.
Dollymount Strand, Dublin: Not likely to turn up on many lists for best beaches in the country, Dollymount still holds a grá for most Dubliners, myself included, considering I grew up a mere stone's throw from the ever-increasing sand-spit that inches closer to Howth Head from the North Wall. The beach, sheltered by banks of decent sized dunes, stretches for about three kilometres and is remarkably remote, considering its proximity to the city centre. And while it is not likely to be getting any Blue Flag awards in the near future, the beach boasts a thriving kite-boarding scene and many bathers still brave the elements on a daily basis, whether July or December. Throw in two of Dublin's best golf courses, Royal Dublin and St Anne's, and a hot-bed of ornithology that is the Bull Island Bird Sanctuary, which is a UNESCO biosphere reserve, and you'll realise that Irish beaches are not always about the Blue Flag. From a personal point of view, the views from the hill of Howth over Dollymount Strand can rarely be bettered, unless from the air, knowing that you have arrived home to Dublin.
Ed Leahy