Deirdre Mullins discovers Lisbon by day and parties by night.
San Francisco and Lisbon are similar. Both cities have old-style trams rattling up their steep hills. They each have seven hills, have suffered from earthquakes, and are fringed by the ocean's blue waters. The comparison is completed by the red suspension bridge that spans the River Tagus in Lisbon and is nearly identical to San Francisco's Golden Gate Bridge. Until now San Francisco was one of my favourite cities in the world; now its European twin has also earned a rightful place on my list.

Lisbon is a city for the ultra-relaxed; its inhabitants walk slowly and there are many al fresco cafes, making it perfect for my two favourite city break activities: aimless wandering and people watching.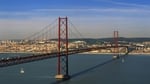 It has no Alcatraz, Eiffel Tower or Coliseum. In fact, it has no big tourist attractions, but people are drawn to the city for its beauty and atmosphere. It's a vibrant city in an old body, with lamp-lit quarters, white-domed cathedrals and elegant plazas. Its Parisian-style boulevards are lined with grand buildings that have felt time's cruelty. Many are crumbling and have faded paintwork, giving Lisbon its old world charm.

Hundred-year-old trams screech and clang their way around the city and add to its shabby-chic image. Tram 28 offers a spin around Lisbon's main sights for just €1.40. It gets packed with locals going about their daily business and visitors favouring it over the open top tourist bus. Even though you run the risk of an armpit in your face, the tram's leather straps and wooden interiors make it an excellent sightseeing vehicle.

Around the old neighbourhood of Alfama the number 28 squeezes its way through narrow, steep streets and hairpin bends, offering great photo opportunities and kicks for thrill seekers. The best stop is the 16th century castle of St George's which is perched on top of one of the city's hills and has magnificent views of Lisbon's city centre and the Tagus. Just a five-minute walk from the castle is a flea market which opens on Tuesdays and Saturdays and has good bargains, especially for leather goods. Other landmarks en route are the striking Basílica da Estrela, the backstreets of Baixa and Sé Cathedral.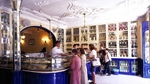 Lisbon's other top attraction is the UNESCO-listed monastery in Belém. The Mosteiro dos Jerónimos is jaw-droppingly beautiful, as is a nearby tourist attraction, a café called Antiga Confeitaria de Belém. Since 1937 it has served what many people describe as the best Pasteis de Belém in the country. In simple terms, a Pasteis de Belém is a custard tart. A more accurate description is a thick Crème brûlée in a crisp pastry nest served straight from the oven and dusted with sugar and cinnamon. They cost about 60 cent each and are delicious. To say they are popular is an understatement: an average of 12,000 tarts are sold each week day and a whopping 20,000 over most weekends.

The Portuguese love to party and the city really comes into its own at night when Lisbon's pretty young things come out in force. Lisboetas seem to have a common disregard for sleep and a night out on the town usually doesn't end until six or seven in the morning. So it's a good idea to reserve at least one of your holiday days as a recovery day.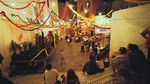 The unrivalled hot spot is up high in the bar-lined lanes of Bairro Alto. It's cheap, noisy, packed and a lot of fun. Revellers fill the loud bars and spill onto the streets to create huge street parties. Cocktails are served in large plastic glasses and a pint glass of a decent mojito is just €4.50. There is an unsavoury side to this hedonistic haven; hash peddlers sell their wares from doorways and if you're still in Bairro Alto when the bars close at 3am you will be privy to streams of urine flowing down its littered, cobbled streets. If all that doesn't appeal to you, then just head a few blocks south to Bica for a more sophisticated and artier scene.

Just walking distance from Bairro Alto is the Principe Real district, home to a unique bar where you must ring a door bell to gain entry. The Chinese Pavilion was formally a brothel and is now a collector's dream. Room after room is packed with dozens of glass-fronted cabinets stuffed with toy soldiers, figurines, toy trains and military gear. It has an old-world feel to it. The bar tenders dress in costumes and make good cocktails in the front bars, while out in the back room there is a smoky bar with pool tables.

Lux is Lisbon's must-see club and is where all the gorgeous people gather. Part-owned by Hollywood star John Malkovich, it attracts big name international DJs. Don't think about going there before 2am and if you go after 4am expect large queues. The crowd are super cool but Lux isn't snooty and neither is its door policy. Do it like the locals: stay up until dawn and head to the rooftop terrace to watch the sunrise over the city.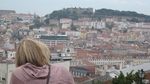 My visit to Lisbon coincided with the IMF's and both Ireland and Portugal's financial woes were top news stories. When someone asked me what country I was from their response was of jovial solidarity and something along the lines of 'We'll all go down together'. My travelling companion being from Brazil was just as interesting to the locals, who regularly made jokes about us 'PIGS' emigrating to booming Brazil. When lost in the cobbled lanes of Alfama, an old man had a lengthy conversation with us after we asked him for directions. I couldn't understand what he was saying in Portuguese but I didn't need a translator tell me what he meant by "Irlanda mal, Brasil bom."

Alfama is Lisbon's oldest and most iconic district. Aimless wandering is the best way to experience this neighbourhood, which is a maze of narrow, cobbled streets. An old working class community inhabits the small houses that are tightly packed together. Elderly women hang the washing across their doorways and have neighbourly chats. Old men sit listening to the radio waiting for a passerby to stop for a chat and cats laze about in the sun. By night the lanes are filled with the mournful ballads of fado.

Fado is a bluesy song of nostalgic longing. It is preformed for tourists all over Lisbon but for a more authentic performance head to Alfama where it originated. The dramatics of the singers and the sad, soulful melody can be captivating even with the language barrier. Alfama has many restaurants where you can be serenaded while having dinner, although the food is usually nothing to write home about.

Going downhill from Alfama on Tram 28, I caught a glimpse of Cristo-Rei, which is a smaller replica of the statue of Christ the Redeemer in Rio de Janeiro. I was surprised that Lisbon had more similarities with another of my favourite cities. So, it looks like I'll have to put Rio de Janeiro and San Francisco down the pecking order and give Lisbon the number one spot.

Deirdre Mullins
Deirdre Mullins was a guest of Portuguese Trade and Tourism Board, Aer Lingus and the Tivoli Hotel Lisbon.

The Tivoli Hotel Lisbon is an elegant five-star hotel and perfectly located in the heart of the city. The rooms are spacious and quiet. The food is excellent in the Terraco Restaurant, which has a fantastic panoramic view of the city. The oasis-like pool at the back of the hotel is perfect for relaxing after a long day sightseeing. For more information and to book, visit: www.tivolihotels.com.

Aer Lingus operates daily flights from Dublin to Lisbon and two weekly flights from Cork to Lisbon on Mondays and Fridays. For more information and to book, visit: www.aerlingus.com.
For more information on Lisbon, visit: www.visitlisboa.com.
RTÉ is not responsible for the content of external websites.