Deirdre Mullins says you should give the Belgian capital serious consideration for your next city break.
When I told friends that I was travelling to Brussels for the weekend, most responded with a hesitant 'oh' - as if I had told them I was going to watch paint dry in a monastery. Some even went as far as to say that they hated Brussels and called it "boring".
These less-than-enthusiastic responses are seemingly motivated by the fact that when people think of Brussels they think of the EU, Eurocrats and waffles. True, Brussels doesn't have the same allure as other European cities such as Barcelona, Paris or Rome, but I was surprised to find a city that is far from boring. It's quite the opposite, in fact.
One of the most important criteria for me when visiting a city is its 'vibe', and in my book Brussels ticks that box. The city's Grand Place is without doubt one of the most impressive squares in the world. In the summer it heaves with locals and tourists, who flake out on its cobbles and enjoy the gothic architecture while munching on ice cream and waffles. The surrounding streets are pedestrianised and lined with alfresco bars and restaurants. Street performers attract large crowds and the city has a definite 'holiday' feel to it.
Brussels is a great walking city and because of its small size is easy to find your way around - the sights that are located outside the centre are well connected by excellent tram, bus or metro systems. As the city is known for its comic books, a walking tour of the comic strip murals seemed an appropriate way to kick off the weekend.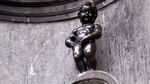 Our guide, Marc Mergem, is an expert on comics, architecture and all things Brussels. His two-and-a-half-hour tour can be booked through the Comic Strip Museum or the Tourist Office. First stop was the Manneken Pis, the centuries-old fountain of a peeing boy with a 'look what a clever boy I am' expression on his face. The statue is small and underwhelming and I've heard it said that it is a fitting metaphor for the city's irreverent humour. A local restaurateur created a sister to Manneken named Jeanneke Pis. She poses the same as her brother, only in a girly fashion.
There are over 40 comic strip murals around Brussels and they bring colour and humour to the city's streets; just beside Manneken Pis is a stunning, large mural at the side of a firework shop. It's easy to stumble across the murals but if you are interested in details on comics including 'Tintin', 'Asterix' and 'Lucky Luke', the walking tour is recommended. It might be a good idea to get there before September when the movie directed by Steven Spielberg 'The Adventures of Tintin' is sure to boost interest in Tintin and Brussels itself.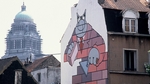 The tour finishes in the Comic Strip Museum which is every comic fanatic's heaven. Here visitors can see the permanent exhibition which displays original comic strip drawings and background information on their characters. Even for those with little interest in comics it's worth a visit to see the building where the museum is housed; it was designed by the Art Nouveau grand master, Victor Horta.
Brussels considers itself the world capital of Art Nouveau. The Comic Strip Museum was formally a warehouse for a textile company and was due to be demolished before the museum moved in. Its large windows, glazed roof and floor and magnificently elegant staircase dazzles you on entering. There is an area on the ground floor which is accessible free of charge and pays tribute to Horta. More of his creations can be viewed at his former home and studio, which is now the Horta Museum, and in various buildings around the city.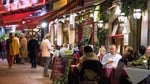 By night the city is just as interesting and there is no shortage of places to go for a drink. In summer the Saint-Géry area or as local call it the "cocktail bar area" turns into one big terrace with locals and tourists enjoying drinks outside. Around Rue de Flandre are six good smoky bars that are frequented by Brusseleairs. Locals recommend that you start the pub crawl with a trappist beer in Monk, and then go to the next one for a Duvel and on to the next one with regular beers along the way. But beware: beers in Brussels are strong, with many as high as 11% proof.
Most party people will find themselves in the Delirium Bar. It's a lively spot and sells over 2,000 different types of beer, 25 of them on tap. As you can imagine, the beer menu is like a phonebook and it's the same deal in the absinthe and tequila bars across the street. The cheapest beer in town can be found in Celtica - €1 before midnight and €2 thereafter.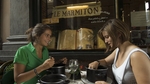 I made a lot of good discoveries using the Use-It map. Use-It is a non-profit organisation which gives tourist information for young people. There is an office located near the Grand Place which has free internet and friendly locals who offer advice. The map is full of recommendations on where to go. Among them are tips such as Parking 58, which is a car park with one of the best views of the city, and a 1930s jazz bar where you have to ring the doorbell to gain entry.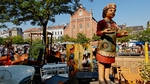 Place du Jeu de Balle Flea Market is great for a rummage around and to pick up some bargains. Locals sell off clothes, furniture, antiques, and a lot of rubbish. From there, take a stroll to the Place of Justice and to the upper-class area of Sablon before a stop at Museum Square. Among the museums worth visiting is the Magritte Museum, which houses the work of the famous Belgium surrealist. The roof top restaurant in the Musical Instrument Museum has a great view of the city and does a great lunch buffet for €28.
So, Brussels isn't boring and because it's not an obvious choice for a city break, it's more attractive to me. It's unusual and refreshing to go to a city and not be jaded by friends' stories of what they did when they were there. Instead, go to Brussels and make it your own.
Deirdre Mullins
The Facts
Deirdre Mullins flew to Brussels Airport as a guest of Aer Lingus and the Belgian Tourist Office. Aer Lingus operates up to three daily flights from Dublin to Brussels Airport. One-way fares start from €39.99 including taxes and charges, for travel until 29 October 2011. For more information on fares and schedules, and to book, visit: www.aerlingus.com.

Deirdre stayed at the Hotel Amigo, which is perfectly located just off the Grand Place. The hotel is stylish and comfortable and has received high profile guests such as Bruce Springsteen. Book 21 days before arrival and take advantage of Hotel Amigo's 'Early Bird Privilege' rate, which offers 10% of the Best Available Rate based on two people sharing a double or twin room. Rates start from €179 (inclusive of VAT). For more information and to book, visit: www.roccofortecollection.com.


For more information on Brussels contact the Belgian Tourist Office - Brussels & Wallonia on: +44 20 7531 0390 or visit: www.belgiumtheplaceto.be.
RTÉ is not responsible for the content of external websites.