From romantic, rugged coastlines to splendid inland mountains and lakes, Ireland's glorious seven Gaeltacht regions offer the perfect Irish getaway.
Soak up stunning scenery, immerse yourself in great activities and learn a cúpla focal at the same time!

Seachtain na Gaeilge (Irish Language Week), from March 4th to 17th, is the biggest celebration of our native language and culture, and is the perfect time to either plan, or actually take a break in the Gaeltacht.
Whether you speak Irish fluently, are rusty, or a complete newbie to the language, choose from a fantastic range of Gaeltact holiday options with walking, adventure parks, cycling, touring, golfing, horse riding and Irish language courses.

But don't take our 'focal' for it - come and see for yourself at www.discoverireland.ie.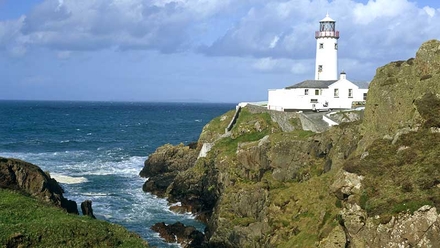 Donegal Delights!
The Donegal Gaeltacht is a breath taking area with imposing mountains and lake-filled valleys fringed by the wild Atlantic. Ireland's largest Gaeltacht region, it is crammed with lots for you and your family to discover, including Glencolmcille Folk Village, bringing you on a journey of Irish life from the 18th to 20th centuries. Sign up to a week-long, or weekend, language learning course at Oideas Gael which also runs a language and culture summer school. www.oideas-gael.com.
Take the ferry to Tory, Rathline or Gola island. For adventure junkies, check out Unique Ascent for everything from hill walking to sea stack climbing. www.uniqueascent.ie.

Majestic Mayo!
Soak up more than just magnificent scenery in the Mayo Gaeltacht, which extends from the Mullet Peninsula to the mountainous blanket bog of Erris and Achill Island.
See just how deep your farming roots lie at the 5000 year old Ceide Fields neolithic site containing the oldest known, stone-walled fields in the world. www.ceidefields.com. Then scuba dive or kite surf on Achill Island. www.achilltourism.com. And book an Irish language pony trek across the beach at Keel – getting your Gaeilge straight from the horse's mouth! www.calveysofachill.com.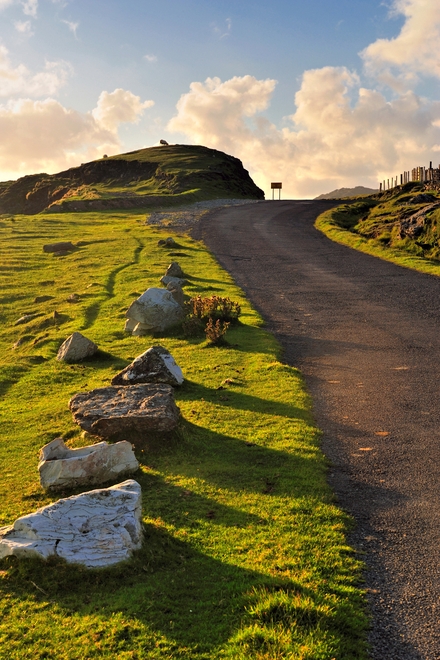 Gorgeous Galway!
Connemara is home to one of the country's most popular Gaeltachts offering the contrast of the mighty Twelve Pins and Maamturk Mountains, as well as charming coves and stunning strands. Go further still with a ferry trip to one of the Aran Islands, where Irish is the first language. www.aranislands.ie.
Hire a bike and cycle through a serene sanctuary of wildlife. www.bikehirearanislands.com. And of course, you can be sure there'll be a trad seisuin nearby to round off the day!

Kerry is King!
For pure fun, few places can match the heart of the Kerry Gaeltacht on the Dingle Peninsula. It's a great place for a break, in any language, and a serious haven for walkers, golfers, surfers and anglers. Dingle town is a gourmet heaven boasting great seafood restaurants and lively pubs. You can practice your Irish in local shops! www.dingle-peninsula.ie.
And experience the splendid isolation of the Iveragh Gaeltacht in South Kerry where you can get a guided tour with mountaineer Con Moriarty. www.hiddenirelandadventures.com.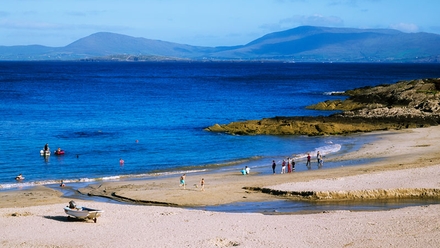 Irish Crackers in Cork!
The Cork Gaeltacht reaches west from Cork City through the Lee River Valley to Macroom and beyond. Make like Socrates and walk while you talk on a walking break in the Muscrai Gaeltacht along the Cork/Kerry border with Lee Valley Walking. www.leevalleywalking.com
The Cork Gaeltacht also takes in the wildly romantic Cape Clear Island, 13km off the coast of West Cork. This tiny island is an archaeological wonder, with megalithic standing stones, a 5000 year old passage grave, and the ruins of a 12th century church and a 14th century castle. www.capeclearisland.com

Wonderful Waterford!
The south east Gaeltacht begins west of Dungarvan in Co. Waterford with the backdrop of the Comeragh Mountains, a walkers paradise. It includes Ring and Old Parish, a scenic part of the world famous for its love of Irish music, song and dance. This area is also a terrific base to visit the beautiful coastal villages of Ardmore and Lismore.
Don't miss the Copper Coast Geopark, an outdoor museum telling the region's geological story. www.coppercoastgeopark.com. And in nearby Tramore learn to surf through Irish at Freedom Surf School! www.freedomsurfschool.com

Marvellous Meath!
A small colony of families from Connemara, Mayo and Kerry resettled in Co. Meath in the first half of the 20th century, spurring a great love of Irish on the East coast. On Dublin's doorstep, the Meath Gaeltacht, taking in Rathcairn and Gibbstown, is a great place to practice your Irish and there's no shortage of fantastic things to do while you're there.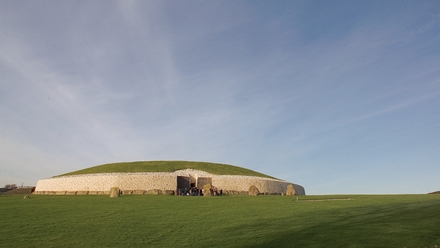 Enjoy a crash course in cultural heritage in the Boyne Valley at Newgrange (www.newgrange.com) or dig a little deeper and excavate at a 13th century friary, followed by a canoe ride down the River Boyne with Cultural Tourism Ireland! www.culturaltourismireland.ie.

Wherever you want your Irish journey to take you, let it begin at one of Ireland's gorgeous Gealtachts with www.discoverireland.ie as your guide. Ceart go leor!