Don't be superstitious...let 13 be your lucky number for the brand new year! Set yourself a challenge to do 10 great things in Ireland in 2013.
You will be spoiled for choice – but here are some of our suggestions. For more inspiring ideas and details of unbeatable breaks check out Te

1. Join The Gathering
This year Ireland is throwing one hell of a party. The Gathering Ireland 2013 is a spectacular, 12-month celebration of all things Irish….so be part of it! Thousands of friends and family from all over the world are being called home to great events in parishes, villages, towns and cities.
There will be clan gatherings, exhibitions, special sporting events, music and concerts all over Ireland, all year long. The Gathering kicks off in spectacular style with the NYE Dublin Festival (December 31st) with a Procession of Light, the Big Bang Fireworks display and a Countdown Concert.
Don't miss The Big Brunch Family Day taking place at Meeting House Square in Temple Bar on January 1st. www.nyedublin.ie. Check out www.thegatheringireland.com for a full list of Gathering events. Also see www.discoverireland.ie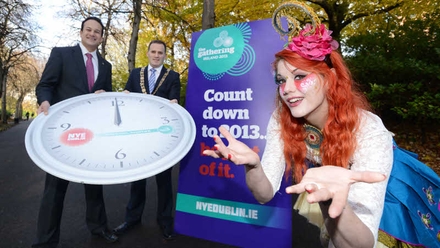 2. Be smart and have an Appy Holiday!
You can have a truly "appy" holiday in Ireland in 2013 - at the tap of a screen! Keep your eye out for the new FREE Discover Ireland App will provide you with a smart guide to everything there is to see and do all over Ireland.
You will get an on-the-spot insight into what's around every corner, with 14,000 listings for accommodation, events, and food as well as easy to use maps. You can be notified of special offers on local products and services and use book marks to help plan your journey.
So go on, make the most of what's on your doorstep in 2013! For more information visit www.discoverireland.ie

3. Experience history with The Morpeth Roll Exhibition Tour
We didn't have Facebook in the 1800's, but this didn't stop Irish people from finding a unique way of saying goodbye to the then popular Chief Secretary of Ireland, Lord Morpeth, as he returned to England. In September 1841 almost 300,000 people signed the biggest 'Bon Voyage' card ever, filling 652 sheets of paper measuring 412 metres in length.
The Morpeth Roll, the world's largest paper collection of original signatures, will go on an exhibition tour for the first time around Ireland in 2013. It will be launched in NUI Maynooth on St Patrick's day and will then go to: Westport House, Co. Mayo (mid-April – beginning of May); Derrynane, Co. Kerry (May 20th – end of June); Kilkenny (August 17th – September 20th); Clonmel, Co. Tipperary (September 23rd – October 25th) and Queens University in Belfast (November 1st – December 13th) Go to www.discoverireland.ie to plan your visit.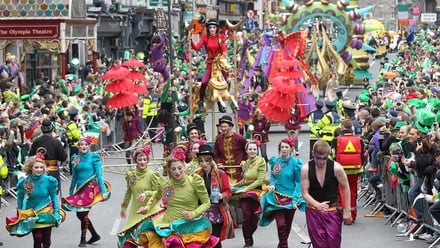 4. Be part of the St. Patrick's Festival Peoples Parade
For years we have all watched the annual St Patrick's Parade never dreaming we could be part of it. But now is your big chance! For the first time ever the St. Patrick's Festival (March 14th – 18th) is inviting up to 8,000 people from home and abroad to march in the St. Patrick's Day Parade in Dublin on March 17th.
Participants will get to soak up the vibrant atmosphere, feel the green energy and wave to the audience along the 2.5 km route which will pass historic landmarks including the GPO, Trinity College, Dublin Castle and City Hall. Apply to be part of the Parade at www.stpatricksfestival.ie

5. Celebrate Our Heritage
The month of August sees some exciting events celebrating our heritage, our love of country sports and our agriculture tradition. Why not take in an event as part of National Heritage Week (August 17th – 25th).
The Irish Walled Towns Day (August 17th – 18th and 24th – 25th) will see participating towns including Fethard in Co. Tipperary and Killmallock in Co. Limerick, organize great markets, medieval re-enactments, jousting and lots of family fun.
Boyne Valley Craft Festival takes place in the Bru na Boinne Visitor Centre (July 13th- August 16th) showcasing great traditional and contemporary crafts, and their makers, in the unique setting of Bru na Boinne Visitor Centre. Or why not take in Moynalty Steam Threshing (August 11th), the Tullamore Show and AIB National Livestock Show (Aug 11th) or Irish Game and Country Fair (August 30th – Sept 1st).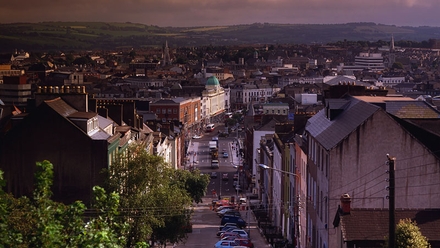 6. Sing it for Cork!
Cork will hit the high notes when 5,000 singers from all over the world converge for the Cork International Choral Festival (May 1st – 5th). This promises to be a stunning celebration of music with world class choral concerts as well as national and international choral competitions. While there is a strong competitive element to the festival, which hosts the prestigious Fleischmann International Trophy Competition, there will be an emphasis on attracting non-competitive choirs this year to mark The Gathering Ireland 2013. Expect voices spilling out from restaurants, bars, galleries and public spaces across the city! See www.discoverireland.ie/cork

7. Happy (400th) Birthday, King Puck!
There are some very special birthdays being celebrated in Ireland in 2013 so make a date to join in the parties! Every August since 1613 Kilorglin in Co. Kerry, has celebrated one of Ireland's best known festivals, Puck Fair, and an extra special event is planned this year (August 10th – 12th) to mark the 400th anniversary.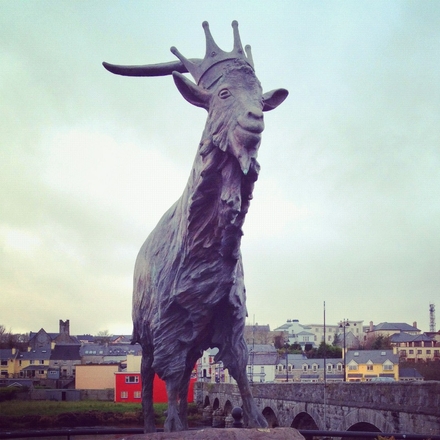 There will be a parade and a local billy goat will be crowned King Puck! Keep an eye on www.puckfair.ie for details.
The Kilkenny Arts Festival (August 9th – 18th) is 40 years old and Ireland's largest multi-disciplinary arts festival is planning some special birthday events. www.kilkennyarts.ie. Why not go wild at Fota Wildlife Park in Cork which will be 30 years old and plans a month long celebration. Full details to be announced at www.fotawildlife.ie You can incorporate these parties with great breaks with family and friends at www.discoverireland.ie
8. Run, Rock 'n Roll in Dublin!
Get into training for what promises to be one of the most fun events of 2013 – the inaugural Dublin Rock 'n' Roll Marathon (August 5th). This is a spectacular half marathon race that will bring you on a scenic tour of the city, passing many famous landmarks and showcasing the city's cosmopolitan charm and rich history. Expect entertainment every mile, a free finish line concert and a fantastic finisher's medal. Afterwards refresh and revive in some of Dublin's great restaurants and pubs! See www.discoverireland.ie/dublin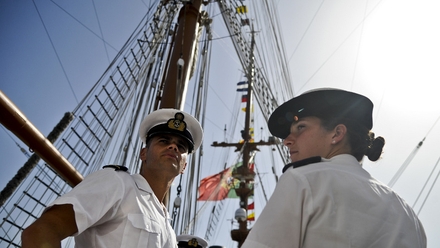 9. Hit the High Seas
Spectacular scenes are promised on the high seas as over one hundred cruising boats form a colourful flotilla along the east and south coasts of Ireland as part of a 19-day Gathering Cruise in July!
This unique event will see boats congregate in ports in the UK before starting their journey to Ireland in stunning formation. The Gathering Cruise will then officially start from Dublin, making a magnificent sight as it proudly sails south. You will get to cheer the flotilla from headlands and welcome boats into ports along the way.
The Gathering flotilla will assemble in Kinsale, Co. Cork, for a welcome Gathering Cruise party, before exploring the coastline of West Cork and Kerry for a week. They gather again in Dingle, Co. Kerry, for a Gathering Cruise Farewell. See www.discoverland.ie to plan where you will follow the cruise.

10. Be a sport and visit Athlone
This is the prefect year to visit Athlone and the midlands, especially if you are a sporting fan. Athlone has been awarded the title of European Town of Sport for 2013 and will be hosting some very special sporting events during the year. Athlone is also the doorstep of the stunning Lakelands Region with fantastic cruising, water and adventure sports, forest breaks and heritage sights. So make a break for it at www.discoverireland.ie/lakelands

Visit www.discoverireland.ie/newyear