Bring him cooking, fishing, golfing, whale watching..or for a pampering day out!
It's that time of year when Irish Dads are honoured and spoiled. If you are having difficulty coming up with an inspired Fathers' Day gift, look no further. Check out Discover Ireland to find a fun, different and imaginative present your Dad will never forget .
There are a wide range of options available - from GAA and cars to adventure trips or a slower-paced boys' spa break! Here are some ideas guaranteed to make an impression this June 17th.

Scale new Heights (Dublin)
Your Dad may never have made it onto the pitch at Croke Park, but the much anticipated new Skyline Croke Park attraction will give him an opportunity to make his debut. Opening on June 1st, bang on time for Father's Day, the Skyline tour will allow your dad scale new heights and see panoramic views of Dublin from one of its most famous landmarks. The tour includes stops at five viewing platforms along Croke Park's 0.6km rooftop walk.

Keeping with the GAA theme, take him on a hurling 'club tour' via The Kilkenny Way with former Kilkenny All-Ireland hurling star Richie Power Snr and his son, current Kilkenny hurling panelist Richie Power Jnr. This great new attraction consists of a two hour "tour and play". You will have an introduction video to hurling, a talk about the history and origin of the game and then you will be taken to a local GAA club to learn the basic skills of the clash of the ash. You might both be surprised at how much you learn about the game. Lovely hurling!
Would he like to try his hand at a spot of fishing? (Carlow)
If so, Southern County Fishing Resort is just the place to take him. Based near Myshall in Co. Carlow, in the foothills of Mount Leinster, Ireland's newest fishing resort and wildlife park is located on a beautiful 45-acre site with breathtaking views. Whether he is an expert fisherman or just a learner this is the perfect place for Dad to learn and hone his skills, with three lakes requiring different levels of fishing expertise. He can try his hand at fly fishing, trout fishing or bait fishing. And to make it a family day out, there is a train ride, pet farm, coffee house, and lots more to enjoy too.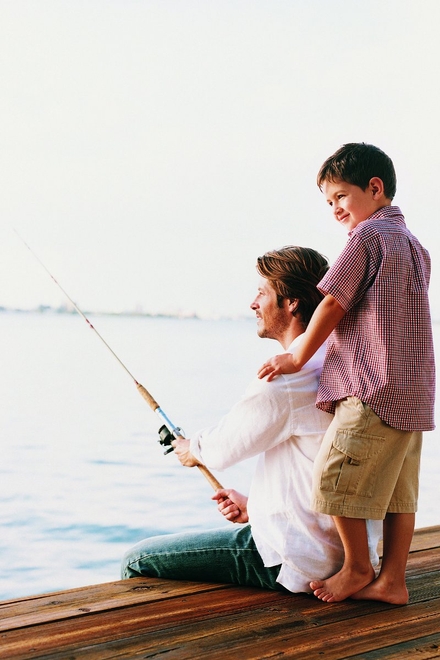 Go Zorbing in the West (Mayo)
Get your Dad spinning on Father's Day by bringing him Zorbing, an adventure sport involving rolling downhill inside an inflatable ball. The Zorb tumbled into existence in New Zealand in the mid-1990's and has been introduced to Ireland by Adventure West who promise to bring customers on an adrenaline ride of a lifetime in the grounds of Westport House. If your father is really up for a challenge he can also go abseiling, zipwiring and coasteering - while the rest of the family enjoy the splendid gardens and the Pirate Adventure Park. If he is still in one piece after his adventure he can take part in the Westport House Father's Day Treasure Hunt.

Have a whale of a time in West Cork
Ireland is one of the best places in Europe to go whale and dolphin watching with 24 species of the world's whales and dolphins species having been recorded in Irish waters.. Whale Watch West Cork run regular trips and your dad will have the opportunity to see various marine wildlife species including dolphins, seals and basking sharks, minke whales and the great fin whales. Leaving from Union Hall, there are three whale watching trips daily in summer along the spectacular West Cork coastline aboard a purpose built whale watching catamaran. A specialty is their sunset whale watching trip - watching the sun go down in the west over Cape Clear Island. Bliss! And if he loves the experience he can sign up for one of the Irish Whale and Dolphin Group (IWDG) courses in Cape Clear (July 20-22nd or September 7-9th)

Chill him out with a Spa break
In Ancient Rome, baths and spas were an area where men could socialise with their peers and conduct business. Gentlemen will be pleased to hear the spa is making a welcome return, and what better way to enjoy a relaxing Father's Day weekend than at one of Ireland's top spas? Dad does not need to tick the metro-sexual box to appreciate the benefits that exfoliating facials can have for a glowing complexion, or the therapeutic profits reaped after a deep tissue massage. There are lots of male spa packages ranging from the 'Golfers Tonic' to made-to-measure massages. Spa breaks are easily combined with golfing or adventure breaks, so you know that your dad will really enjoy this extra special Father's Day treat!

Rev it up in Mondello (Kildare)
Your dad can get into top gear and live out his car fantasies at the Mondello Park 'Classic Car Live' which takes place on Father's Day (June 17th). A vintage car lover will be in heaven with more than 1,000 classic cars and motorcycles to drool over. The event will feature car displays, trade stands and live action with high speed track sessions and historic and vintage car racing.

Then, a drive along the Gordon Bennett Route is a must. The famous driving route follows the course of the famous 1903 Gordon Bennett Cup Motor Race through Laois, Kildare and Carlow. This international contest was the precursor of the present day Formula 1 Grand Prix and was raced by the world's greatest daredevils at record-breaking speeds. However you can take your time and stop off at the Irish National Stud and the Japanese Gardens for a pitstop.

Or for a real treat you could give him a spin in a vintage sports cars. Based in Adare, Co. Limerick, Ireland's only classic car hire company, Heritage Sports Cars offers thrilling road trips in cars such as the Jaguar E-Type, Triumph TR6, MGB Roadster, Porsche 911, MG TF or even a Ferrari.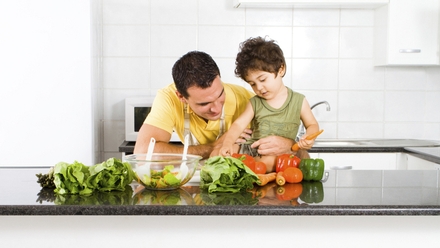 Send him to the kitchen!
Does your Dad need help in the kitchen? You can treat him to a cookery break at one of the many culinary schools in Ireland. There are lots of special Father's Day packages available covering a weekend, or shorter one and half-day courses. The Cooks Academy in Dublin is offering "Cooking with your Dad" workshops, a culinary day out for Dad and Son or Dad and Daughter. If he fancies combining cooking with eating you can get him a weekend at Kevin Dundon's Dunbrody House in Co. Waterford, and sign him up to the "Seafood & Shellfish" cooking course on Saturday June 15th.

You can make it a family affair and take him down to Iveagh Gardens for the Taste of Dublin from 14th – 17th June, and celebrate the best of local and international food, and pick up some great tips from world famous chefs including Jamie Oliver.

If your father is more of a tippler than a taster he can sample some of the locations on the award-winning Ireland Whiskey Trail, a free touring guide to 30 Irish distilleries, best whiskey pubs, and specialised whiskey shops in Ireland.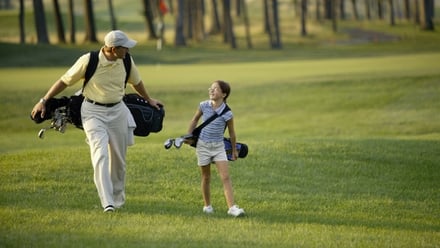 Tee him up for golf
Ireland boasts some of the best golf courses in the world and it is possible to experience them at competitive rates with an Irish Golf Pass. The Gateway to the South West Pass offers three rounds of golf for €109 at Bantry Bay, Kenmare and Beaufort Golf Clubs. You get a passport to great championship golf courses in Co. Meath with the Boyne Golf Pass. For only €65 your Dad can play Knightsbrook Golf Club, Rathcore Golf Club and County Meath Golf Club. Why don't you offer to caddy for him!

For family bonding you can enter him for The World Invitational Father & Daughter Golf Tournament from July 9th to 12th at Lahinch and Doonbeg Golf courses, or The World Invitational Father & Son Golf Tournament which takes place in Waterville, Co. Kerry from 8th -12th August. There are great packages available for both.

Ship ahoy! (Dublin and Galway)
Most men love boats and all things nautical. Ireland is hosting two major international boating events this summer, so why not appeal to your Dad's inner sailor and book him a break to take in one or other of these exciting spectacles? The Volvo Ocean Race Grand Finale Festival is set to enthral the city of Galway from June 30th to July 8th. When thousands of visitors from all over the world will descend on the City of Tribes to celebrate with a festival of marine, sport, culture and arts, entertainment and food. .
For more ideas and great value family getaways visit Discover Ireland.