With sunny days and longer evenings ahead, now is the time to plan what festivals you'll be hitting this summer.
With a wide range of music tastes catered for, there really is a summer music festival for everyone. Whether you are planning to go on tour with some friends, a girly weekend away or hope to grab some quality time with your other half there's a festival for you. Many of the summer music festivals are also family friendly, so why not plan to pack up and go camping for a few days while catching the best of Irish and international talent?
To plan your summer of sound, visit Discover Ireland for more information on the wide range music festivals on offer. For now, here are just 10 of the highlights from the summer music calendar…

Festivals fever heats up

For all eco-lovers out there the 'Life Festival' is for you. Taking place from May 25-27th, the independent dance festival aims to be 100% sustainable and runs a number of festival initiatives to help festival-goers reduce their environmental footprint. The award-winning dance festival will this year take place in Belvedere House, Co. Westmeath, and offers a host of top international DJs such as #1 DJ Jamie Jones, the live dubstep band Engine Earz Experiment and Planetary Assault Systems, all of which are sure to get you into the swing of summer.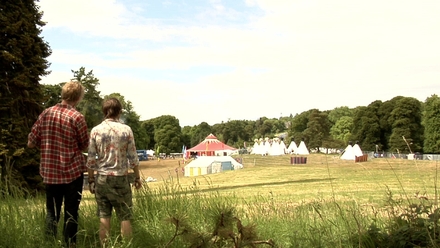 For music and arts enthusiasts looking to catch a fantastic line over the June Bank Holiday weekend, 'Forbidden Fruit 2012' returns to the grounds of the Royal Hospital Kilmainham, Dublin. The non-camping festival is a collaborative fusion of music, art, fashion and this year there'll be five stages, including a newly added Comedy Tent. Together with a fine array of delicious food, creative craft stalls and the usual festival quirks and oddities, Forbidden Fruit is the best reason to spend a Bank Holiday weekend in Dublin. This year's line up includes live music from bands such as New Order, Leftfield, Death Cab for Cutie and The Rapture and many more.
For those looking for a literary and arts festival in the beutiful Lakeland, the original 'Flat Lake Festival' takes place in Hilton Park, Clones, Co. Monaghan on June 2nd. Soak up some spectacular views, take in some arts and literature all while savouring local produce from the 'Stony Grey Soil Food Fair'. Or get in touch with Mother Nature's natural beauty remedies and pamper yourself at the Natural Beauty Parlour or sip a home brew at Thackery's Natural Cocktail Bar.
For those heading West, the 'Westport Festival of Music and Performing Arts' is the place to be from June 23rd- 24th. Music lovers are in for a real treat with a line-up of Ireland's top musicians including Imelda May, Damien Dempsey, Ryan Sheridan and David Kitt. While for those who enjoy a bit of rhythm and blues Jools Holland and his Rhythm & Blues Orchestra is guaranteed to get the crowd going. This is a festival for music fans who treasure their record collections and embraces the very best local and international rock, folk, celtic and acoustic sounds.
For festival-goers looking to slow down and enjoy something more alternative, the 'Body & Soul Festival' takes place in Ballinlough Castle, Co. Meath, from June 22-24th. With a lavish outdoor Masquerade Ball and a careful selection of international artists such as Villagers, Emika and The Herbaliser, this is a festival with chilled out vibe. Wander to the dreamscape that is the Zen gardens, relax, stretch and unwind in the chilled, lakeside cocoon or meet acrobats, troubadours and belly dancers - a festival must for hippies out there.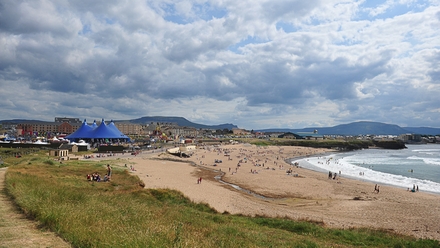 Water babes should check out 'Sea Sessions', the surf music festival, taking place June 29th-July 1st in Bundoran, Co. Donegal. With a line-up that includes Happy Mondays, Kaiser Chiefs, The Coronas and with an array of surf and beach activities on offer, 'Sea Sessions' is the perfect festival to soak up the summer rays.
This year also hails the return of the 'Castlepalozza' festival from August 3rd-5th, the music and arts festival, which takes place on the grounds of Charleville Castle, Tullamore, continues to go from strength form strength. Widely recognised as one of Ireland's top small festivals, the wooded wonderland setting offers an alternative setting where you're guaranteed great music, merriment and memories.
For more information on summer music festivals visit www.discoverireland.ie/whatson