Ingredients
It's that time of year where we are all a little conscious of what we eat after the food marathon we have just endured over the festive season. This light dish is quite versatile! Have it as a light lunch with some dressed leaves or as a dinner starter or even remove the beetroot, add a little honey and natural yogurt and you have the perfect breakfast.
Serves: 4
2 Apples peeled and cored
200ml apple juice
1 star anise
1 stick cinnamon
300g soft goats cheese
For the candy oats
250g oats
50ml honey
25g salt
40g brown sugar
50 g butter
For the beetroot relish:
4 beetroots finely sliced (matchsticks)
1 red onion finely sliced
100g caster sugar
1 tsp ground ginger
1 tsp ground cinnamon
2 star anise
200ml apple juice
Method
For the apples:
Simply place the apples in the apple juice along with spices and simmer in a covered small pot for 20 minutes. Remove the apples and set aside. Cut in half once cool. Keep the juice and use as a hot or cold drink.
For the candy oats:
Excluding the oats, simmer the ingredients in a small pot until the sugar has dissolved. Coat the oats in the mixture and bake at 150c for 20 minutes. Leave to cool and set aside.
For the beetroot relish:
Place all ingredients in a small pot with a lid. Simmer for 1 hr. Remove lid and simmer for a further 30 minutes until it has a jam like consistency. Remove from the pot and leave to cool.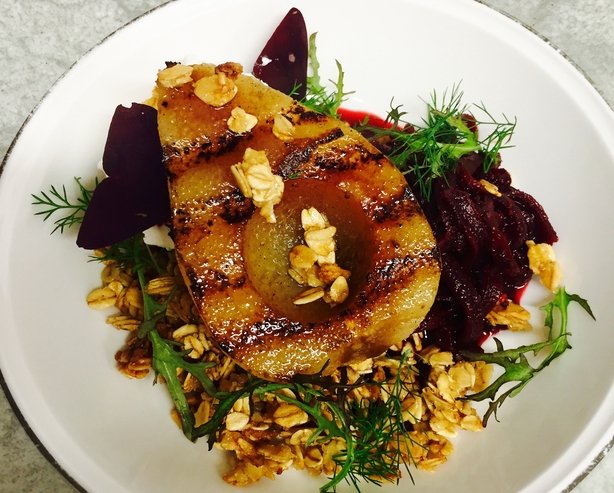 Serving your dish:
You can serve the apples hot or cold. If you like them hot like I do, simply pan fry or chargrill until golden brown. Place a tablespoon of relish in a bowl along with equal quantities of the goat's cheese. Sprinkle the candy oats on top and then place the apple on the oats. You can garnish with some fresh herbs like basil, coriander or fennel .