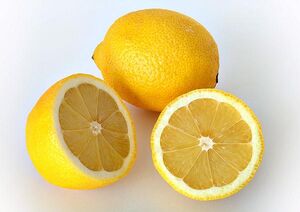 Lemons are a type of citrus fruit and are easily recognized by the bright yellow color of their rind/skin. Lemons are prized for their sour juice, which is usually the prime use of the lemon. However, other parts of the lemon, including it's skin/rind are used in many different dishes. Similar to the lime in flavor, the lemon tends to lack the lime's characteristic tartness.
As stated earlier, lemons are a citrus fruit and thus are of the genus Citrus of which all citrus fruits are a member.
Lemons are oval in shape, with a small protrusions near the stem and bottom of the fruit.The exact origin of the lemon has remained a mystery, though it is widely presumed that lemons are wildly grown in both India and China. In South and South East Asia, it was known for its antiseptic properties and it was used as antidote for various poisons. The lemon was later introduced to Iraq and Egypt around 700 A.D.
This article uses content from recipes.wikia.com and is licensed under the Creative Commons Attribution-Share Alike License