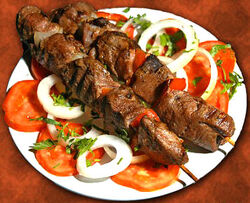 "Beef" is meat from full-grown cattle about 2 years old. A live steer weighs about 1,000 pounds and yields about 450 pounds of edible meat. There are at least 50 breeds of beef cattle, but fewer than 10 make up most cattle produced. Some major breeds are Angus, Hereford, Charolais, and Brahman.
"Baby beef" and "calf" are 2 interchangeable terms used to describe young cattle weighing about 700 pounds that have been raised mainly on milk and grass. The meat cuts from baby beef are smaller; the meat is light red and contains less fat than beef. The fat may have a yellow tint due to the vitamin A in grass.
"Veal" is meat from a calf which weighs about 150 pounds. Those that are mainly milk-fed usually are less than 3 months old. The difference between "veal" and "calf" is based on the color of their meat, which is determined almost entirely by diet. Veal is pale pink and contains more cholesterol than beef.
This article uses content from recipes.wikia.com and is licensed under the Creative Commons Attribution-Share Alike License