Roasted Root Vegetables with Buttermilk Dressing and Coriander Couscous
This dish is delicious hot or cold. Try using any combination of root vegetables you fancy. However, it's important that the vegetables aren't too crowded in the roasting tin, otherwise they'll stew rather than roast. If in doubt, use 2 smaller tins and swap the shelves in the oven halfway through roasting to ensure they cook evenly.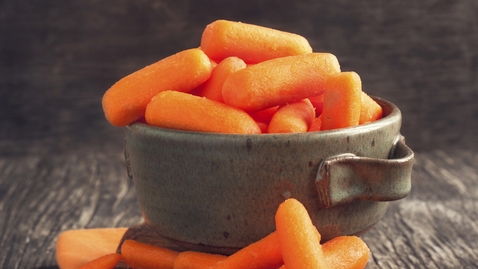 Ingredients
20

baby carrots, peeled and trimmed

12

baby beetroot, trimmed and halved

10

baby leeks, trimmed and halved

4

tblsp

balsamic vinegar

2

tblsp

caster sugar

5

tblsp

extra virgin olive oil
225g (8oz) couscous
Juice of ½ lemon

2

tblsp

chopped fresh coriander
Sea salt and freshly ground black pepper
Lightly dressed salad, to serve
For the Buttermilk Dressing:
75g (3oz) soft goat's cheese or curd
75ml (3fl oz) buttermilk
Method
Preheat the oven to 200°C (400°F/gas mark 6). Line a large roasting tin with parchment paper.
Place the carrots, beetroot and leeks in a bowl with the balsamic vinegar, sugar and 2 tablespoons of olive oil, then toss to combine. Tip into the lined tin and roast for 20-25 minutes, or until the vegetables are just soft.
To make the buttermilk dressing, whisk the goat's cheese and buttermilk until smooth and season to taste.
Five minutes before the end of the vegetables' cooking time, place the couscous in a large pan and drizzle over the remaining 3 tablespoons of olive oil along with the lemon juice, stirring gently to combine.
Pour over 225ml (8fl oz) of boiling water, then stir well, cover and leave to stand for 5 minutes before gently separating the grains with a fork. Season to taste and then reheat gently, stirring continuously with a fork. Remove from the heat and stir in the coriander.
To serve, arrange the coriander couscous on warmed serving plates with the roasted root vegetables and drizzle around the buttermilk dressing. Garnish with a good grinding of black pepper and the salad.