Red Cabbage Salad
Cabbage is cheap, versatile and keeps well in the fridge. I particularly like red cabbage and I find this recipe a great way to add flavour and character to what is after all a very inexpensive vegetable. This simple recipe is one of my favourite quick meals to serve to my family with the added bonus that it is also healthy and nutritious. This works well with any Nepalese or western meal but I like it best with some quick Nanglo Chicken and Naan Bread.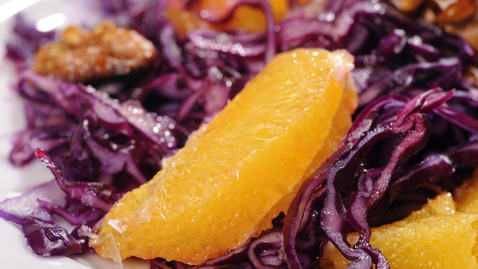 Ingredients
1

small red cabbage thinly shredded

2

tblsp

lime juice (or lemon)

2

tblsp

veg oil

0.50

tsp

salt or to taste

1

tsp

sugar

0.50

green chilli finely chopped or chilli flakes(optional)

1

tsp

finely chopped fresh ginger (optional)
Method
First mix the lime juice with salt, sugar and chilli (if using) in a cup and set it aside. Heat oil in a pan or wok, add shredded cabbage and stir fry for 1-2 minutes until the cabbage has begun to wilt but still retains its crunch. Add the lime juice mixture, stir and remove from the heat. Allow to cool down a bit and serve as a salad or side dish.