Sticky Toffee Pudding and Salted Whiskey Butterscotch Sauce
In the restaurant we sometimes serve individual sticky toffee puddings for lunch. It's derived from a recipe my mum often made for Sunday lunch and is still a firm favourite with our family. I just love the combination of hot pudding and sauce against the cold ice cream. Sticky toffee pudding is a classic. When I made it on TV for Home Chef, I really noticed how many people in the restaurant asked for it. It's traditionally thought of as a heavy dessert, but this is a light version. I like to use Medjool dates - they're more expensive but worth it for this dessert. I love their sticky caramel texture and taste.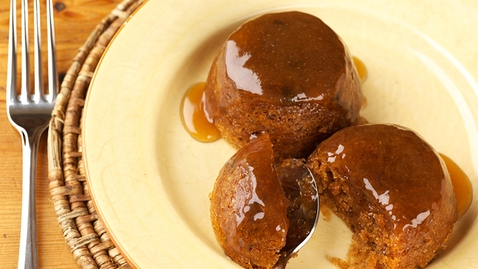 Ingredients
200g (7oz) butter, at room temperature
175g (6oz) self-raising flour, plus extra for dusting
175g (6oz) Medjool dates, stoned and roughly chopped

1

tblsp

dark rum

1

tsp

bread soda
175g (6oz) light brown sugar
½ vanilla pod, split in half and seeds scraped out

2

eggs, beaten

1

tsp

vanilla extract
Salted whiskey butterscotch sauce (see link below), to serve
Caramel foam (see link below), to serve
Vanilla ice cream, to serve
Toasted chopped pecan nuts, to serve
Melted plain chocolate, to decorate
Fresh raspberries, to decorate
Fresh mint sprigs, to decorate
Method
Preheat the oven to 180°C (350°F/gas mark 4).
Melt 50g (2oz) of the butter in a small pan or in the microwave and use to brush the insides of 8 x 200ml (7fl oz) small pudding bowls, then lightly dust with a little flour, shaking out any excess. Set aside until needed.
Place the dates in a pan with 300ml (½ pint) water and the rum. Bring to the boil, then reduce the heat to a simmer and cook for about 5 minutes, until the dates are soft. Add the bread soda to the date mixture, which will cause it to foam up, then set aside to cool a little. Place the date mixture in a food processor and blend for 2 minutes. Pour into a bowl.
Meanwhile, cream the sugar, the remaining 150g (5oz) of the butter and the vanilla seeds together in a bowl for about 10 minutes, until light and fluffy. Add 1 tablespoon of the flour to the butter and sugar mixture, then slowly add the eggs and beat well to combine. Add the blended date mixture with the remaining flour and the vanilla extract and combine everything gently to give a smooth dropping consistency.
Pour the pudding batter into the prepared bowls and arrange on a baking sheet, then bake for 35-40 minutes, until slightly risen and firm to the touch.
To serve, leave the puddings to settle for a minute or two before turning out onto warmed plates. Spoon over the salted whiskey butterscotch sauce and finish with the caramel foam. Add a scoop of ice cream to each one with a little of the chopped pecans underneath to prevent the ice cream from slipping around the plate. Decorate with the melted chocolate, raspberries and mint sprigs.
Cook Ahead: The puddings can be made up to 2 days in advance once they have been cooked and kept covered in the fridge until needed. To serve, just warm them through in the oven for about 10 minutes. This sauce will keep for 2 weeks in the fridge.
Notes:
http://www.rte.ie/lifestyle/food/recipes/2014/0205/4219-butterscotch-sauce/
http://www.rte.ie/lifestyle/food/recipes/2014/0205/4220-caramel-foam/