Chicken Pot
This recipe is made from all Irish ingredients including Green Saffron Spices and Glenilen Farm butter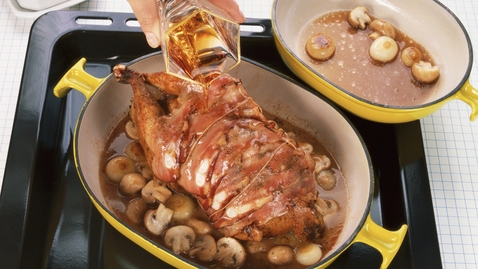 Ingredients
An organic chicken of your choice

16

small shallots or pickling onions, peeled

12

cloves of garlic left whole skin on

150

ml

fresh chicken or vegetable stock

50

g

butter, cubed, straight from the fridge

2

tblsp

crème fraîche to finish sauce
For the spiced butter
15

g

green saffron korma spices
1/4 tsp natural sea salt
small handful, finely chopped, fresh curly parsley.
1/2 tsp very finely grated or 'microplane' lemon zest.
Method
Preparation
Mix all Spiced Butter ingredients together in bowl. Take the bird and place into a casserole pot.
Carefully lift the skin of the bird away from neck-end and gently push the butter in, lifting with your fingers between the bird & flesh.
Then, rub the Korma butter over each of the legs and under both breasts
Take a piece of butchers string and tie the bird so the legs are kept into the body.
Finishing and the sauce
Remove the bird from the casserole and skim the juices to remove excess fat, then add 2 tspn of the Green Saffron Korma spice blend and allow to bubble gently until it's reduced by half.
Now, add the crème fraîche and continue to reduce down so the sauce just coats the back of a spoon, then add the cubed, cold butter and stir through.
Roasting
Turn your oven to 180°C, gas mark 4.
Place the onions, garlic, stock and prepared chicken into the casserole and seal the lid with a strip of tin foil. Roast for 50- 65minutes
Watch