Apple Tarte Tatin
This is my absolute favourite desert. I have made this with pineapple, and pears are lovely too! The nice part is that it is so easy but everyone thinks you're a genius because it looks so impressive!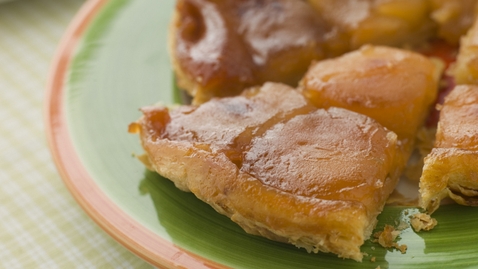 Ingredients
6

granny smith apples (peeled, cored and quartered)

100

g

butter

150

g

caster sugar
large pinch ground cinnamon

0.50

tsp

vanilla extract or the seeds from a vanilla pod

1

pack of all butter puff pastry
whipped cream or vanilla ice cream to serve
Method
Heat the butter over a medium in a cast iron frying pan (I use a 'Le Creuset' pan about 25cm in diameter). The pan must be suitable for putting in the oven. When the butter foams add the sugar and let it caramelise for a few minutes. Then sprinkle in the cinnamon and vanilla. Arrange the quartered apples cut side up in the pan. Continue to cook for a couple of minutes until the apples soften slightly. Turn off the heat and leave to sit for about 10 minutes.
Meanwhile roll out the pastry and use a plate a little larger than you pan to cut out a circle from the pastry. Then carefully lay the pastry over the apples in the pan and tuck it in around the sides.
Bake the tart for 25 minutes at 180C.
When cooked place a large plate over the pan and turn out your tart. Be very careful as often the juices can escape so normally I do this over the sink with another pair of hands at my disposal!
Serve warm with cream or ice cream.
Notes:
Remember - don't stir the caramel as this will cause it to become grainy. Just swirl the pan to mix.