Mouclade
This traditional French dish consists of steamed mussels served in a lightly curried sauce and crusty bread.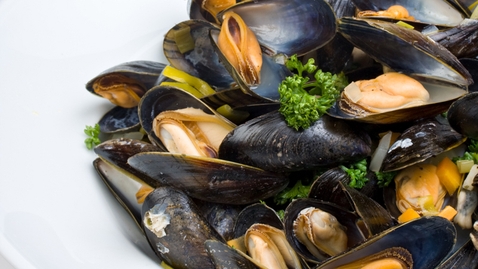 Ingredients
1

tblsp

unsalted butter

1.50

kg

mussels or clams (or you can buy fresh and scrub and de-beard them)

2

finely diced banana shallots
handful fresh parsley

1

finely crushed garlic clove
squeeze fresh lemon juice

1

tsp

green saffron mouclade spice blend or mild curry powder
pepper to taste

1

tblsp

plain flour

125

ml

light chicken stock

125

ml

dry white wine or dry cider

125

ml

full fat crème fraîche
pinch sea salt

1

tblsp

unsalted butter
1/2 tsp fresh thyme leaves
Method
Take a large straight sided, heavy bottomed pan, add the butter, pop onto a medium heat and allow to melt.
Add the shallots, garlic and only just cook to soften them, no more than about 3 minutes.
Next, add the Mouclade blend or curry powder, flour and cook-out for another 2 minutes.
Add the stock and wine (or dry cider) turn up the heat, briskly cook and allow to bubble until it's reduced by half.
Then, add the crème fraîche, add pinch of salt, butter, thyme leaves and stir.
Next add the cleaned mussels and cook for 3 or 4 minutes, no lid. Their lovely juices will mix with the sauce, making it the same sort of consistency as vanilla custard.
Then add the lemon juice, a good crack of fresh black pepper and finally, a generous handful of parsley.
Take a soup ladle and fill a warmed 'family platter' with the delicious saucy mussels, tear some crusty bread into hand-sized chunks and serve immediately with plenty of serviettes or paper towels to your eager guests!
Serving suggestion
With thick wedges of warm, crusty sourdough and a bitter, aromatic leaf salad of dandelion, mustard leaves, lovage, sorrel, parsley, coriander and a splash of colour from beautiful bright nasturtiums!
Watch