Blackberry And Apple Tart Tatin With Creme Anglaise
Kevin Myers serves up a delighful apple and blackberry tart.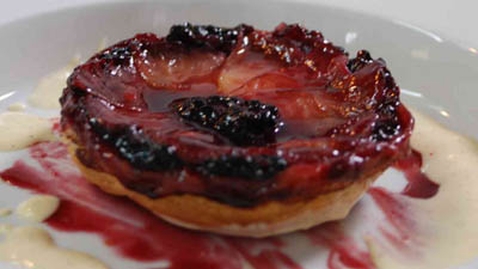 Ingredients
225

g

caster sugar

110

g

unsalted butter

3

granny smith apples (peeled and cored)

110

g

blackberries
for the puff pastry:

225

g

plain flour

150

g

unsalted butter (wrapped in baking paper or tin foil and frozen)
pinch salt
cold water to bind
for the crème anglaise:

150

ml

cream

150

ml

milk

50

g

sugar

3

free range egg yolks
Method
First make the puff pastry. Sift the flour into a bowl with the salt. Grate the cold butter into the flour. Use a knife to mix in the butter until incorporated. Add a tablespoon of the water to the mixture and form dough, add more water gradually until the dough forms a soft ball of dough. Put the dough in Clingfilm and leave in fridge for 20 minutes.
Next put the butter in a medium sized heavy-bottomed frying pan. Put on a medium heat until it melts. Add the sugar and stir until it dissolves and then place the apples, flat-side up, into the sauce and cook for another 5-7 minutes or until the sugar begins to turn a golden caramel colour and then add the blackberries between the apples.
To make the crème Anglaise, place the cream and milk in a saucepan and bring to just under a boil. In a bowl whisk the sugar and egg yolks together until they are pale and thick. Pour the hot creamy mixture onto the sugar and eggs, whisking constantly. Strain the mixture back into a clean saucepan and cook over a low heat, stirring all the time with a wooden spoon until the mixture begins to thicken and coats the back of the spoon, then set aside until service.
Preheat the oven to 180°C/Gas 4.
Remove the pastry from the Clingfilm, flour the counter and roll the dough into a round shape to fit over the frying pan, place on the pan and tuck in the edges to inside the pan so that it is snug and there are no gaps. Bake for 20 minutes until the pastry is golden brown. Then remove from oven and leave to rest for 10 minutes and taking care with the extremely hot sugar syrup.
To serve, place a plate over the pastry and quickly flip over, cut into slices and serve warm with crème Anglaise.