Coriander-Infused Shellfish Risotto With Desmond Cheese and Black Truffle
Tracy Piggott serves up this tasty shellfish starter.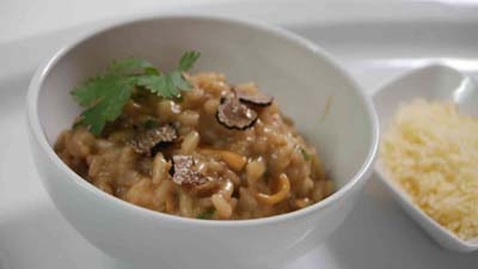 Ingredients
200

g

mussels (cleaned and de-bearded)

200

g

clams (cleaned)

300

g

prawns

3

tblsp

olive oil

2

tblsp

butter

4

shallots (peeled and finely diced)

2

cloves garlic (peeled and crushed)

150

ml

white wine

400

g

arborio rice

1.50

l

coriander infused fish stock

40

g

mascarpone cheese

50

g

desmond cheese (shaved)
black truffle shavings
for the stock:
lobster or langoustine shells

1

2-inch knob fresh ginger (sliced)

1

garlic bulb (cut across middle horizontally)

2

carrots (peeled and quartered)

1

spanish onion (peeled and quartered)

4

plum tomatoes (halved)

2

celery stalks (chopped)

5

scallions (chopped)

2

whole star anise

1

½ tablespoons coriander seeds

2

lemon grass stalks (bruised with back of knife)

1

bunch of fresh coriander (preferable with roots on and washed)

2.50

l

water
Method
Place a heavy pot with a tight fitting on a high heat. Toss the Mussels and clams into the pot, cover and leave for 4-5 minutes. Shake the pot vigourously every minute to allow the shellfish to cook evenly. After 4 minutes, check the shellfish to see if they have all opened, cook a little longer if necessary. Remove the shellfish meat and discard any unopened shells.
Place all the stock ingredients in a large pot and cover with the cold water. Add the reserved shellfish juices and bring everything to a boil. Reduce the heat and simmer for about 45 minutes, skimming the brown froth that forms on the surface occasionally.
Strain the stock into a clean pot and put over a high heat. Add the prawns and poach for 2-3 minutes and remove with a slotted spoon, leave to cool and remove the fish meat.
To make the risotto, put the olive oil and butter in a heavy frying pan over medium heat. When the butter foams, add the shallots and garlic and sauté for 4-5 minutes. Add the rice and stir until each grain is coated with the buttery juices. Add wine and stir occasionally until it has been absorbed.
Reduce heat and add enough stock to just cover the rice and leave to be absorbed. Keep adding warm stock gradually until the stock has been absorbed completely and the grains of rice are fat and tender, this should take about 20 minutes.
Add the Mascarpone cheese, stir well and gently add prepared shellfish. Remove the risotto from the heat and leave to rest for 5 minutes until the last of the liquid is absorbed. Fold in a little of the chopped coriander.
Place some risotto in a serving bowl and garnish with some Desmond cheese shavings, thinly sliced truffle and some coriander.