Chocolate Tsunami
One of Kevin Myers' acclaimed desserts from the RTÉ series 'The Restaurant'.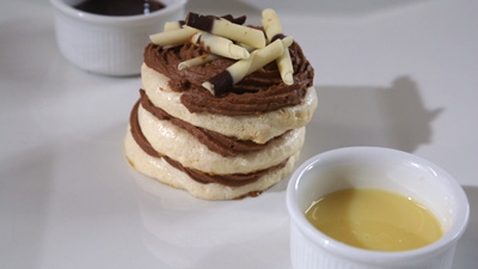 Ingredients
4

free range egg whites

200

g

sugar

200

g

dark chocolate (good quality at least 70% cocoa solids)

55

ml

water

570

ml

cream
for the sauce:

100

g

white chocolate

100

g

dark chocolate
Method
Pre-heat the oven to 220ºC/Gas 7.
Whisk the egg whites in a clean, dry bowl until they are thick.
Then add the sugar gradually and continue to whisk until it is thick and glossy.
Smooth the meringue mixture into small circles on greaseproof paper and cook in the oven for 1-2½ hours until very crisp and leave to cool.
For the sauce, put the chocolate and water in a bowl and melt over a pot of simmering water.
Whip the cream until thick and gently fold into the cooled chocolate.
Place a little of this mixture on top of one of the meringues and put another meringue on top, put some more chocolate cream on this and refrigerate the meringues.
When ready to serve, melt the dark and white chocolate separately over a pot of simmering water and place in small ramekins.
Put a meringue on each serving dish and 2 ramekins of white and dark chocolate alongside and serve immediately.