Crisp Pork Belly, Smoked Mackerel, Baby beetroot and Wild Horseradish
A main course to impress.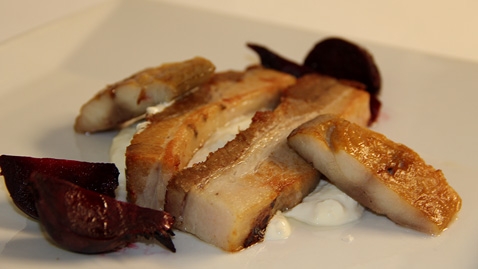 Ingredients
2-4 smoked mackerel fillets
for the pork belly:

2

kg

pork belly
8-10 cloves of garlic
bunch of fresh thyme

2

bay leaves

500

ml

goose fat
for the beetroot:
10-12 baby beetroots (washed)

3

bay leaves
for the wild horseradish:
4-5 tablespoons of freshly grated horseradish
4-5 tbsp crème fraiche
lemon juice, to taste
salt and freshly ground black pepper, to taste
Method
Preheat oven to 130°C.
For the Pork Belly:
Rub the pork bellies all over with the sea salt and place in a dish with the bay leaves, garlic and thyme.
Cover it and leave to marinate for 24 hours.
Take the pork bellies from the dish, rinse off the salt and pat them dry.
Keep the herbs and garlic in a dish for later.
Melt the goose fat in a roasting tin until it bubbles, and add the pork bellies and herbs and garlic (reserved from before) until it bubbles.
Cover with a layer of baking parchment and cook in the oven for three hours.
When cooked, remove from the oven and remove the pork bellies from the fat.
Once cool, place between two sheets of baking parchment in a baking dish big enough to hold the pork. Transfer to the fridge and let the pork solidify in the fat overnight.
To serve, cut the now solid pork belly into finger-size portions. Grill under a medium heat until both sides are crisp and golden.
For the Mackerel:
Slice the mackerel into angled, finger-size pieces.
Warm a tablespoon of butter in a saucepan and add the mackerel for a minute or two to warm it through.
For the Beetroot:
Place the beetroot in a pot, cover with cold water and add the bay leaves.
Bring to the boil and cook for 30 minutes until tender.
Allow the beetroot to cool in the liquid and, when ready to serve, melt some butter in a saucepan on a medium heat and warm the cooked beetroot through.
For the Horseradish Cream:
Mix together the crème fraiche, grated horseradish and lemon juice in a bowl and season to taste with salt and freshly ground black pepper.
Set aside in the fridge to chill until you are ready to serve.
To Serve:
Place some of the horseradish cream onto each of your plates.
Place two of the pork belly pieces on top and two pieces of the smoked mackerel.
Finish with a few of the sliced baby beetroot at either side and serve immediately.