Beef Rouladen with Red Cabbage
Jessica Kuerten serves her Beef Rouladen with boiled potatoes and red cabbage.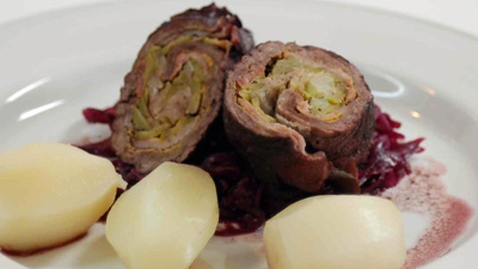 Ingredients
6

oz

very, very thin beef (steaks, flank steak or silverside) (x4)

2

tblsp

strong yellow mustard

12

cornichons (thinly sliced lengthwise)

1

onion (peeled and very thinly sliced)

6

strips bacon

110

ml

red wine

325

ml

beef stock

1

bay leaf
for the cabbage:

1

medium red cabbage (quartered, cored and sliced)

2

red onions (peeled and sliced)

2

bramley apples (peeled, cored and grated)

1

tsp

ground cinnamon

25

g

demerara sugar

3

tblsp

red wine vinegar
salt and freshly ground black pepper
Method
Pre-heat the oven to 150ºC/Gas 3.
Lay a slice of meat on a flat surface and brush generously with the mustard. Place a slice of bacon on top and sprinkle evenly with 2 sliced cornichons. Put some onions slices on top and season with salt and black pepper.
Roll the meat up tightly and secure with a skewer. Repeat this process with for the other 5 rolls, then sear each in oil over a high heat. Place the seared rolls in a baking tray that's just big enough to hold the six rouladen.
Then pour the wine and stock over the beef and add the bay leaf and slowly cook in the oven for 3-4 hours until the meat is tender.
Make the red cabbage by putting the cabbage, red onions, apples, cinnamon, sugar in a pot over a medium heat. Pour in the red wine vinegar and season well. Bring to the boil and then reduce the heat and simmer for 60-80 minutes, stirring occasionally.
Slice the meat in half diagonally and serve with some boiled potatoes and red cabbage and drizzle with some reduced meat juices.