Homemade Pizzas with Quick Yeast Dough
Fantastic recipe to allow the kids make their own pizza and add their own toppings.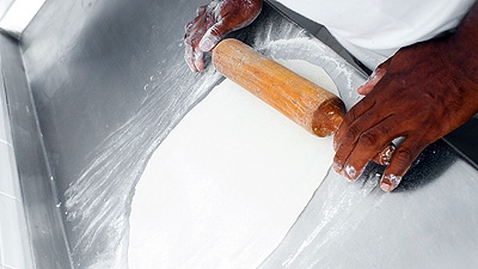 Ingredients
for the pizza dough

700

g

strong white flour

1

rounded tsp salt

1

tblsp

sugar

50

g

butter

15

g

packet (2 x 71/2g sachets) fast-acting yeast

3

tblsp

olive oil, plus extra for brushing

350

ml

(to 400) lukewarm water
for the tomato sauce

600

g

ripe fresh tomatoes, halved

5

tblsp

olive oil

3

cloves of garlic (peeled and kept whole)

3

tblsp

balsamic vinegar
salt, freshly ground black pepper and sugar
your favourite toppings, such as:

450

g

mozzarella (for 12 pizzas)
slices of chorizo or pepperoni sausage
small florets of broccoli
cherry tomatoes
peppers
small red onions
olives and anchovies (if your children like them)
Method
First, make the pizza dough. Place the flour, salt and sugar in a big mixing bowl. Rub in the butter, add the yeast and mix together. Make a well in the centre of the dry ingredients, add the oil and most, but not all, of the warm water and mix to a loose dough. Add more water or flour, if needed.
Take the dough out of the bowl and let it sit on a lightly floured worktop, covered with a tea towel, for 5 minutes. Then knead the dough for 10 minutes or until it feels smooth and slightly springy. [You can also do this in a food mixer with the dough hook – it takes half the time. Let the dough relax for a few minutes again]
Shape and measure into 12 equal balls of dough, each weighing about 100g (4oz). Lightly brush the balls of dough with olive oil.
If you have time, cover the oiled dough with cling film and put into the fridge for 30 minutes. The dough will be easier to handle when cold but it can also be used immediately.
Preheat oven to 230°C (450°F), Gas mark 8.
To make the sauce, lay the tomatoes on a baking tray, cut side up. Add the garlic, drizzle with olive oil and balsamic vinegar, and season with salt, pepper and sugar.
Cook in the oven for 20–30 minutes, until the tomatoes are completely soft and blistered. Remove and liquidise and strain. Season again to taste.
The sauce needs to be thick enough to coat the back of a spoon. If it needs thickening, place in a saucepan, bring to the boil and reduce to thicken, which could take up to 10 minutes.
Prepare your toppings. Grate the mozzarella; boil the broccoli florets in water until just al dente (about 5 minutes), then drain and plunge into iced water to refresh; halve the cherry tomatoes; deseed and slice the peppers into strips and quarter the red onions, then roast in the hot oven for 10 minutes with a drizzle of olive oil, thyme leaves, salt and pepper.
Place on a flat sheet or an upside-down baking tray in the oven – it's easier to slide the pizza on and off if the surface does not have a lip.
Then, on a floured work surface, roll each ball of dough out to a disc about 25cm (10in) in diameter – if you have semolina or fine polenta you can use this to dust your worktop instead of flour.
Place a pizza base on a second, cool, upside-down floured tray, spread with a little tomato sauce and sprinkle with your chosen toppings and cheese.
Slide the pizza off the cool tray onto the hot tray in the centre of the oven and cook for 5–10 minutes, depending on the heat of the oven and the thickness of the pizza, until the pizza is golden underneath and bubbling on top. I find it best to cook just one or two pizzas at a time.
Notes:
This recipe and many more are available from Rachel's book Rachel's Food for Living published by Harper Collins