Bread and Butter Pudding
Michael Healy-Rae serves up this traditional dessert.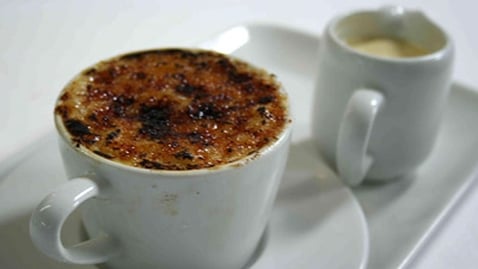 Ingredients
6

oz

raisins

12

slices of white bread

2

oz

unsalted butter

4

floz

double cream

12

floz

milk

1

vanilla pod (split)

4

large eggs

6

oz

caster sugar

4

floz

dark rum
for the custard:

1

pint

full fat milk

1

vanilla pod – split in half

6

egg yolks

4

oz

caster sugar
Method
Soak the raisins in rum, for at least one hour but preferably overnight
Preheat the oven to 150ºC/Gas Mark 4.
Using a round cutter, cut circle of bread out of each slice. Butter both sides of the bread.
In a pot heat the cream, milk and split vanilla pod in a saucepan and bring to the boil and remove from the heat.
In a bowl, whisk the eggs and sugar together until thick, then pour in the hot cream and milk mixture onto the eggs and whisk again.
Dip the bread rounds into the mixture and then place one into each of the four ramekins (or cups) Sprinkle each with some soaked raisins and repeat twice for each.
Divide the warm egg mixture between all four ramekins and place them in a roasting tray filled half way up with hot water. Cook for 45 minutes until all the liquid is set.
To make the custard, heat the milk and vanilla pod in a saucepan until just under boiling point. Whisk the egg yolks and sugar together and pour the hot milk over it and whisk. Pour this mixture into a clean saucepan and heat gently over a low heat, stirring with a wooden spoon constantly until the custard coats the back of the spoon. Remove from the heat and add whiskey to taste.
Serve the bread and butter pudding warm with a small jug of the whiskey custard on the side.