Bacon and egg custard with black pudding crumb, crispy sausage and tomato sauce.
Nessa Collinge's National Dish challenge recipe.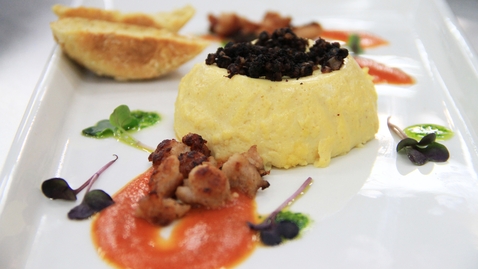 Ingredients
70 ml olive oil
1 egg + 1 egg yolk
150 ml single cream
150 ml milk
200 g streaky bacon
0.25 onion
few white peppercorns
couple sprigs thyme
2 large bunches parsley
250 g vine-ripened tomatoes
2 tsp balsamic vinegar
2 tsp brown sugar
40 g butter
1 pork sausage
1 slice black pudding
1 slice white bread
micro radish leaves
salt
black pepper
sunflower oil for frying (3-4 tbsp)
200 g plain flour
1 tsp bicarbonate of soda
1 tsp table salt
200 ml buttermilk
Method
Heat oven to 150 C
Boil kettle water.
Fry streaky bacon in drizzle sunflower oil until coloured. Place in saucepan with the 120ml milk, 120 ml cream, onion and peppercorns. Simmer at lowest heat setting for 10 mins.
Place egg and egg yolk in large mixing bowl and whisk to combine.
Strain the milk/cream mixture and if necessary top liquid up to 240 ml. Return to pot and warm gently.
Carefully add the cream mixture to the eggs a little at a time.
Pour into the dariole moulds and set in a roasting tin. Fill until halfway up with water from the kettle and place in oven for 25 mins.
Remove the custards from the oven and turn the oven up to 230 C
Sift flour, salt and baking soda into a large mixing bowl. Slowly add buttermilk and combine using you right hand like a 'claw' until dough is soft but not too sticky. (You may not need all of the liquid)
Turn onto a floured board and flatten to a depth of 1 ½ inches. Cut into scones using an 8 cm diameter ring cutter.
Transfer to a baking tray lined with parchment paper and place in oven for 15 minutes.
When soda scones are done they should sound hollow when tapped on the bottom. Remove to a wire rack to cool for 15 mins.
Bring a saucepan of water to the boil and dip the parsley in the water for 10 seconds then transfer to a bowl of iced water.
When the parsley is cool transfer to a liquidiser with the olive oil and blitz until pureed.
Strain the parsley oil through a nylon sieve, season with salt and store in a plastic bottle until needed.
Melt a knob butter in some oil in the frying pan and slice the tomatoes in half. Sprinkle with salt, pepper and brown sugar and caramelise in the melted butter.
Add 1-2 tsp balsamic vinegar to the tomatoes and 2 sprigs thyme. Turn down heat and cook until tomatoes are soft (about 10 mins). Sieve the sauce, check seasoning then transfer to small sauce pan to be warmed through at the last minute.
Melt knob butter in some oil in frying pan. Open the casing of the sausages and pull small pieces of the meat off dropping them in the oil. Fry until nicely coloured and cooked through, then drain on kitchen paper.
Fry the slice of black pudding and when cooled a bit crumble into a ramekin.
loosen the custards by running a knife around the mould.
Thinly slice a soda bread scone and brush two slice on both sides wit olive oi before placing under a hot grill.
Make melba toast by toasting the bread under the grill. Remove the crusts, slice the bread laterally and cut in half diagonally. Place under the grill again so that the edges curl up.
Plate dish by unmolding the custard in the centre of a round plate. Spoon the tomato sauce around and add pieces of crispy sausage meat. Sprinkle the top of the custard with the black pudding crumble and squeeze some dots of parsley oil onto the plate
Garnish with finely chopped parsley and microradish.
Serve with the soda bread toast on the side.