Carrageen Moss Pudding with Irish Coffee Sauce, Coffee Bean Tuile and Crumble Sand
Charlie Day's recipe for the National Dish challenge.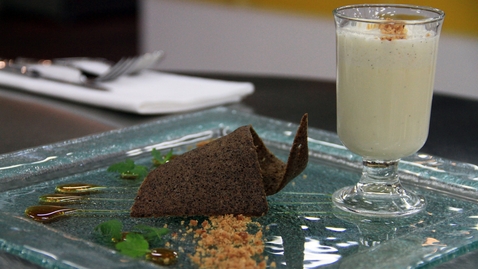 Ingredients
for the carageen moss pudding:
4g dried carrageen
300ml milk
150ml cream
1tsp vanilla extract
0.50 vanilla pod
1 egg
1 tblsp sugar
for the irish coffee sauce:
125g sugar
65ml water
125ml strong coffee
1 tblsp irish whiskey
for the tuile:
1 egg white
50g caster sugar
25g butter
25g plain flour
25g freshly ground coffee beans
for the crumble:
25g butter
25g plain flour
60g vanilla sugar
25g whole almonds
pinch cinnamon
Method
Start with the Pudding:
Soak the Carageen in warm water for 10 minutes
Strain off water and place in saucepan with milk, cream and vanilla
Bring slowly to boil and simmer for 15 minutes.
Separate egg and set white aside. Whisk together yolk and sugar.
Pour milk mixture onto egg through a sieve, whisking constantly. Scrape the bottom of the sieve but do not squeeze the carrageen.
Whisk the egg white until stiff.
Portion carrageen mixture and top with egg white for a fluffy top. Refrigerate.
Now make the Crumble:
Roughly chop the almonds.
Rub butter into sugar, flour and cinnamon. Add Almonds and mix.
Cool in fridge.
When butter has hardened again, spread mixture out on a baking tray and bake at 180oC for 10 minutes or until golden brown.
Depending on what texture you prefer you may blitz in food processor.
For the Irish Coffee Sauce:
Put sugar and water in saucepan and bring to boil, stirring to dissolve all sugar. Once boiling, leave it alone to caramelise.
When a dark caramel is reached add the coffee and allow to dissolve together. Reduce slightly.
Allow to cool and add whiskey.
For the Tuile:
Preheat oven to 180oC
Whisk egg white til soft peaks form, add sugar and whisk.
Melt butter and add to egg and sugar alternately with the flour.
Add coffee and mix until smooth.
Spread mixture through tuile template with palette knife and bake until golden.
Remove from oven and shape while still hot.
Plating:
Place ramekin of pudding on slate.
Put small jug of sauce beside.
Arrange crumble as sand and tuile as a wave.
Garnish with a small sprig of seaweed as though a "beach".
Notes:
"Carrageen is an ancient, natural ingredient used to set pudding and also renowned for its health benefits. It is found all along the Atlantic Coastline of Ireland. There is then a modern trend of Irish Coffee Micro Roasteries so I think this dish marries old Ireland and modern Ireland well. With Some Irish Whiskey to bring it all together."