Pork Fillet with creamy mash, chargrilled veg & a tarragon creme fraiche sauce
Niall O'Connor's key ingredient recipe from Heat 4 of MasterChef 2014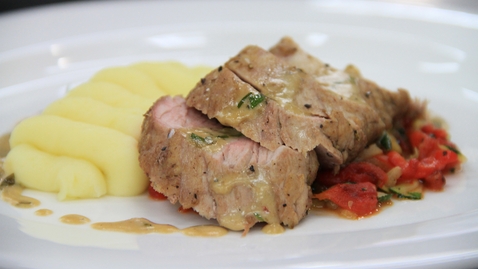 Ingredients
pork fillet, trimmed of all visible fat (keep trimmings aside)
3 large potatoes (roosters)
red/yellow peppers,
courgette,
fennel seeds,
fresh tarragon (bunch approx 25 leaves)
flat leaf parsley (3 or 4 sprigs),
tub creme fraiche,
chicken stock,
1/2 banana shallot
unsalted butter
milk
cider vinegar
white wine
olive oil
salt & pepper
Method
Begin by trimming all fat and sinew from the fillet of pork. These trimmings will add flavour to your sauce, so keep them! For the challenge, I also took some blade steak and used the fatty trimmings off that, too.
Preheat oven to 170C. Next get the (peeled) potatoes boiling in salted water til tender. They tend to discolour less if you start them in cold water. Drain well.
While they're cooking, blister the skin off lightly oiled peppers at high heat. I grilled them, then placed them in a bowl covered with clingfilm for 15 mins to make peeling easy.
At a slight angle (allowing more surface area) cut 1/2cm slices of courgettes and chargrill them & peeled peppers. Julienne (finely slice) them, lightly season and set aside.
Push the potatoes through a drum sieve, return to pot, add plenty of butter & some milk (warmed) to desired consistency. For that authentic Masterchef feel, season poorly and have your dinner guests berate you for it. ;)
Lightly toast fennel seeds in dry pan then crush with mortar & pestle. Oil the pork fillet and rub sea salt & fennel seeds on the outside. The pork should now be sealed on all sides in an oven-proof pan along with trimmings from earlier and transferred to oven for about 12-15 mins depending on thickness of meat. If you have a meat probe, bring the pork to 65c then rest well (8 mins). You are looking for a final core temp of 68- 70C. I went for 68. This will be the most tender. It won't be rare but will have a pink blush to the centre of the meat, but is perfectly safe to eat!! Don't be frightened, once you try it you'll see the difference!
Now your pork is out and resting, use that pan to sweat finely minced shallot. Then deglaze with cider vinegar (2-3 tblsp) and a good glug of white wine, add some chicken stock and reduce to about 1/2. Strain & finish with some cold butter, creme fraiche and plenty of chopped tarragon/parsley. If you put in the herbs too soon they lose their vibrancy.
Pass the mash through the sieve again and remember to season. I was surprised during the restaurant service just how much salt it can take, and I erred (way) too far on the side of caution. Remember its unsalted butter. If you want it to look posh, pipe it through a bag with a snipped opening of 7mm. Now quickly reheat veg with a dash of stock and you're ready to serve. Bon appetit!