Pork Schnitzel, Potato Puffs, cauliflower puree, chorizo, with a mushroom bourbon & cream sauce
Sonya Hylton's key ingredient challenge from Heat 4 of MasterChef 2014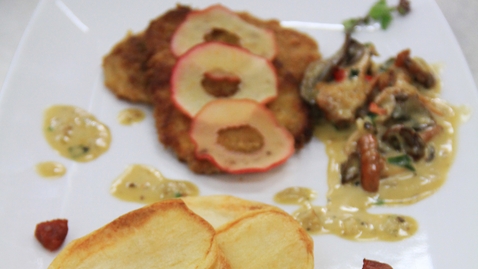 Ingredients
200 g fillet pork
2 medium potatoes
150 g cauliflower
150 ml double cream
4 oz butter
1 egg white
1 egg
1 shallot
1 clove of garlic
0.50 red chilli (optional)
30 ml bourbon
100 g chorizo
5 oz chanterelle mushrooms
5 oz chesnut mushrooms
50 g flour
50 g breadcrumbs
2 tblsp tarragon chopped
25 g cornflour
salt & pepper
oil to deep fry
Method
Chorizo:
Cut chorizo into 1/2" cubes.
Fry in a hot pan, until crispy.
Remove from pan and place on kitchen paper.
Pork Schnitzel:
Cut pork into medallions.
Place pork between cling film and pound with a meat tenderiser.
Chop tarragon.
Place flour in a bowl and season with tarragon, salt & pepper.
Coat pork with seasoned flour and shake off excess flour.
Beat the egg in a bowl.
Dip pork into egg.
Then coat with breadcrumbs.
Melt 2oz of butter in a pan.
Fry the schnitzel for 1-2 mins on each side over a medium heat.
Remove from pan and place on kitchen towel.
Potato Puffs:
Peel potatoes.
Slice finely with a mandolin.
Place 8 potato slices on a tray, separately.
Brush 4 potato slices with the egg white and coat 4 potato slices with the cornflour.
Place the potatoes together, egg white side and cornflour side together.
This will make 4 potato puffs.
Deep fry in oil until puffed and golden in colour.
Cauliflower puree:
Cut cauliflower into florets.
Place in a pot.
Cover the cauliflower with ½ milk and ½ water.
Bring to the boil and simmer for 10 mins, until cauliflower is soft.
Strain in a colander. Retain 3tbsp of cauliflower water.
Place cauliflower in a micro blender add cauliflower water and 3tbsp double cream.
Blend until a smooth puree.
Season with salt & pepper.
Mushroom, bourbon & cream sauce:
Peel and chop mushrooms.
Chop garlic, shallot & chilli finely.
Melt 2oz of butter in a pan, sauté shallot, garlic and chilli for 2-3 mins until soft.
Add mushrooms and cook for 2-3 mins over a medium heat.
Add 30mls of bourbon and de-glaze the pan, cook for 1 min.
Add 200mls of double cream and reduce sauce by half.
Remove from the heat.