Mexican Seared Beef on Peanut & Tequila Sauce, Sweet Potatoes
Brenda Carroll's signature dish from Heat 4 of MasterChef 2014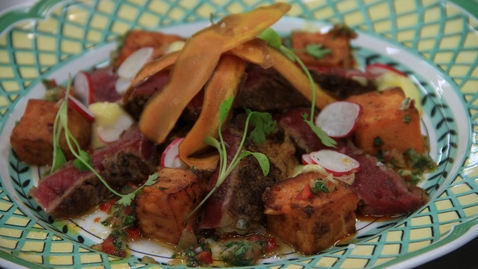 Ingredients
for the beef:
2 x 200 g good quality sirloin steaks minimum 2cm thick
1 tsp smoked paprika
1/2 teaspoon hot chilli powder
sea salt
freshly ground black pepper
for the mayonnaise@
1/2 tablespoon finely grated horseradish
1 egg yolk
1/8 teaspoon of salt
1/8 teaspoon dijon mustard
1 tsp white wine vinegar
110 ml sunflower oil
1/2 teaspoon lime juice.
for the sweet potatoes:
2 large sweet potatoes
sunflower oil
2 tsp ground cumin
2 tsp smoked paprika
sea salt
freshly ground black pepper
for the salsa verde:
small bunch fresh coriander
small bunch fresh mint
1 clove garlic, crushed
1 fresh red chilli
2 spring onions
1 tomato
juice of a lime
for the peanut sauce:
50 g unsalted peanuts
25 g sesame seeds
1 chipotle chilli in adobo
1/2 teaspoon dried oregano
1 tsp fresh thyme leaves
1/2 teaspoon cumin seeds
1 clove garlic
50 ml extra virgin olive oil
10 ml tequila
juice of 1 lime
1 fresh green chilli
sea salt
freshly ground black pepper
for garnish:
2 baby radishes
1 sweet potato
micro coriander
1 lime
Method
For the Sweet Potatoes:
Preheat the oven and baking tray to 200 degrees C.
Peel the sweet potatoes, slice into 2cm slices and cut into 2cm X 2cm cubes using a square metal cutter.
Toss in the oil and spices
Roast in the oven for about 1/2 hour.
For the peanut sauce:
Add the nuts and sesame seeds to a dry frying pan for a few minutes until lightly browned. Add the oregano, cumin seeds, thyme, chipotle chilli and garlic and cook for another minute or so. Put the dry ingredients into a liquidiser with the olive oil, tequila, lime juice, fresh chilli, salt and pepper, and enough water to make a paste (about 80 - 100ml).
For the Salsa Verde:
Finely chop all the ingredients and combine in bowl.
For the Horseradish Mayonnaise:
Put the egg yolks into the bowl of a blender with the mustard, salt, vinegar and lime juice.
Turn the blender to its lowest setting and dribble in the oil very slowly.
Stir in the grated horseradish.
For the steak:
Heat a frying pan to a high heat.
Season the steak with the spices, salt and pepper.
Add to steak to the pan and sear for about 2 minutes on each side.
Remove and allow to rest for a few minutes before serving.
For the garnish:
Heat oil in a saucepan to approx 170 degrees
Finely slice shards of the sweet potato with a speed peeler (or mandolin) – place into the saucepan of hot oil until the edges curl up. Remove with a slotted spoon and place onto a sheet of kitchen paper. Season with sea salt.
Finely slice the radish on a mandolin.
To plate up:
Place some of the peanut sauce in the centre of the plate
Place the sweet potato cubes and spoons of the salsa verde around the outside of the plate.
Slice the rested steak and place on top of the peanut sauce and top with the sweet potato crisps.
Dot some horseradish mayonnaise around the plate with the squeezy bottle.
Garnish with the finely sliced baby radish and micro coriander. Serve with a lime wedge.