Duck Breast on Celeriac Puree with Spiced Cherry & Port Sauce
Niall O'Connor's signature dish from Heat 4 of MasterChef 2014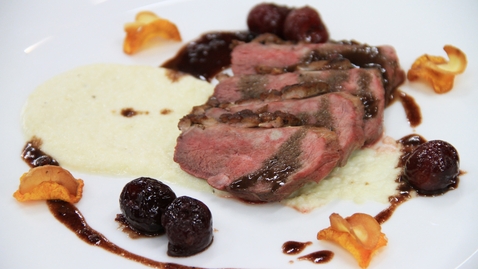 Ingredients
2 large de-boned barbary (or gressingham) duck breasts
150 g fresh cherries (if destoned, all the better)
2 shallots
1 star anise
1 tsp ground allspice
1 orange
200 ml ruby port
splash of cassis liqueur
1 tsp recurrant jelly
1 pint dark beef stock (preferably not salty). if stuck a beef oxo cube is fine
1tsp sugar
(arrowroot powder as a thickener… usually not needed, but just in case & some cold water)
1 whole celeriac
2 cloves garlic
2 bay leaves
1 pint milk
handful peppercorns
double cream
salt & black pepper
0.50 a lemon
butter
Method
Duck will be prepared by trimming fat & diamond-slashing skin with a sharp knife for rendering. Rubbed with garlic & black pepper and set aside for later.
Cleriac will be peeled and diced into manageable pieces (about 2cm cubes).
Place cubes in a pot with lemon juice, salt, whole peppercorns, bay leaves & topped with boiled water. Bring to boil & cook for 30 mins on medium simmer or until celeriac is tender.
Destone cherries using machine or halve them, twist & remove stone from remaining halves.
Place duck skin side down into a cold pan, bring to medium heat & render fat before placing breasts into a preheated oven at 180c for 6-7minutes depending on size, rest for 10 mins before carving.
Sweat finely chopped shallots in a pan with a drizzle of the duck fat, cook off for 4 mins, add a splash of balsamic and squeeze of orange then add the allspice, star anice & pour over the port, reduce and add stock, jelly & season with black pepper. arrowroot to thicken if required. Finish with cold butter
Strain tender celeriac, removing bay & peppercorns, but retain cooking licor as will be used in puree to get correct consistency.
Place in chopper with 1 tblsp unsalted butter, small quantity of cream (1 tblsp) and pulse til smooth. Use licor if too solid to let it down a bit. Season.