Tarragon chicken with savoy cabbage parcels and potato galette
Nessa Collinge's signature dish from Heat 3 of MasterChef 2014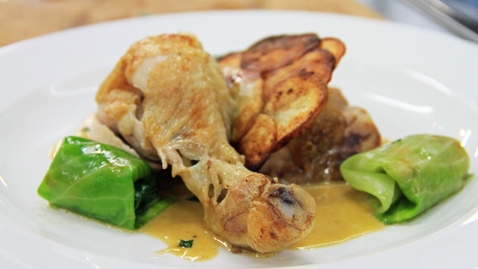 Ingredients
one large chicken leg on the bone
couple sprigs tarragon
1 small onion
1 carrot
1 shallot
1 pork sausage
1 clove garlic
100 ml vermouth (ideally noilly prat)
100 ml good quality chicken stock
40 g butter
salt
white pepper (in a peppermill)
75 ml double cream
3 leaves savoy cabbage
1 medium sized potato
Method
Heat oven to 200 C
Melt generous knob of butter and a little sunflower oil in an ovenproof sauté pan.
Pan fry the chicken leg on both sides until it is nicely browned.
Add one small onion roughly sliced and a clove of garlic.
When onion has softened deglaze pan with dry vermouth, add couple sprigs tarragon and place in oven for 25 mins.
After 25mins turn oven down to 180 and cook for a further 10 mins.
While chicken is cooking peel and finely slice a medium potato.
Melt good knob of butter and a little oil in a non-stick frying pan and carefully place the potato slices in the butter. Arrange a few slices in a circle overlapping them and adding salt and pepper.
Cover with some parchment paper and weight down with another saucepan. Remove parchment after 5 mins, season and turn over.
Remove the stalks of the cabbage leaves and blanch in boiling water.
Finely chop carrot and shallot and sweat gently in a little melted butter.
Add the sausagemeat and fry until cooked through.
Divide the filling between the 3 cabbage leaves. Place a spoonful in the centre of the leaf and bring the outside edge towards the centre to cover filling. Roll up until filling is completely enclosed and to make 3 parcels.
When chicken is done remove from oven and rest for 5 mins on a warm plate.
Return sauté pan to hob and add 100ml good quality chicken stock.
Reduce until thick and syrupy and add 75ml double cream.
Simmer for 5 mins approx until thickened, then strain into clean saucepan, adding some freshly chopped tarragon.
To assemble the dish, slice the chicken leg at the joint and remove the thigh bone. Place on a round warmed plate and stand the potato galette vertically between the two pieces of meat.
Place the cabbage parcels either side of the meat and spoon around the sauce.