Pork and Apple Ravioli, tossed in a Walnut Beurre Noisette
Liam Murray's signature dish from Heat 3 of MasterChef 2014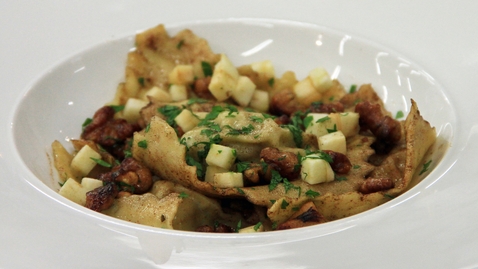 Ingredients
for the pasta:
4 free range eggs
400 g tipo 00 flour
200 g tip 00 flour for dusting
for the filling:
two apples (cox pippin)
25 g butter
2 or 3 sage leaves (to taste)
150 g pork mince
salt and pepper
for the beurre noisette:
25 g butter
2 tblsp walnuts
2 tsp parsley
Method
For the pasta – 10 minutes prep time, 4 minutes cooking time:
Place eggs and sieved flour into food processor.
Blitz for 2 or 3 minutes until mix crumbs and begins to form dough.
Remove dough from processor and gather into a lump.
Knead for 5 minutes until dough is smooth, silky and stretchy.
Wrap in cling film and place in fridge for at least 20 minutes.
After 30 minutes, remove pasta from fridge and cut a quarter away. Pass this through the pasta machine, gradually reducing the width, until sheet is almost thin enough to see through. Dust with flour and cover with cling film. Repeat with remaining dough until you have sufficient sheets for 4 or 5 large ravioli.
For the Filling – 5 minute prep time, 15 minute cooking time:
Heat butter in small pan over medium heat until it foams.
Add cubed apples to butter and continue to cook over low/medium heat until apples are soft, about 15 minutes. You may need to add a spoon of water if butter starts browning.
After 10 minutes, add chopped sage leaves to apple mixture and continue cooking.
Season pork mince and fry in oil in large pan until browned, 4 or 5 minutes.
Mix pork and apple mixture in bowl and allow to cool.
Assembly – 10 minutes:
Cut one sheet of ravioli into squares of 6 cm. Cut a second sheet into squares of 8 cm.
Brush small square with water and place a spoon of filling into center of small square.
Place larger square over small square and gently mold over filling, trying to ensure no air pockets exist.
Press down around edges to seal and trim with ravioli cutting wheel. Repeat for 4 or 5 ravioli.
Place on floured surface and cover unless cooking immediately.
Cook in salted boiling water for 4 minutes and serve immediately.
Beurre Noisette – 10 minute cooking time:
Place butter into pan over medium to high heat.
Add walnuts.
Continue heating until the butter turns a dark brown and develops a nutty smell (upto 10 minutes depending on the heat). You may need to scoop any of the solids that develop on the surface off using a spoon.
Remove from heat.
Finish:
Remove pasta from boiling water and toss in beurre noisette.
Place in serving bowl, spoon some further beurre noisette and walnuts over pasta.
Sprinkle parsley as garnish.