Seared ribeye of beef with red pepper tomatillo puree and sweetcorn tomato saute
Bill Gunter's key ingredient recipe from Heat 2 of MasterChef 2014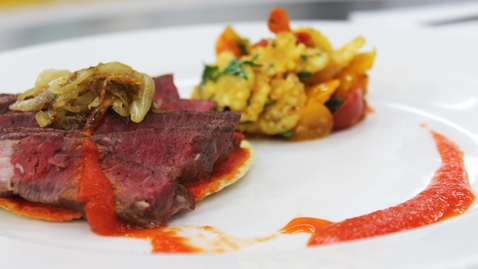 Ingredients
1 inch thick beef rib eye steak
4 red bell peppers
1 large tomatillo, husked
vegetable oil
smoked paprika
1 ear baby corn, husked
1 red cherry tomato
1 yellow cherry tomato
1 onion
1 orange cherry tomato
1 clove garlic
1 cup self-rising flour
0.50 c milk
marjoram
parsley
butter
Method
Grill red peppers, tomatillo and garlic under high heat. Turn the peppers so they char evenly. Remove the peppers and tomatillo after the skins are blackened and the garlic after it is soft.
Let peppers cool. Rub the skins off and deseed. Peel the garlic.
Put peppers, tomatillo, garlic, ½ tsp paprika and 1 T oil in food processor. Process until smooth.
Pass puree through a chinois into a bowl. Season with salt.
Set fan oven to 200C.
Peel and slice onion pole-to-pole. Cook over low heat in skillet with a pat of butter, 1 tsp minced marjoram, and a pinch of salt 30 min or until caramelized. Season.
Mix 1 cup flour, ½ c milk, 1 T oil and ½ tsp salt in bowl until dough comes together. Knead 2 min. Wrap in cling film and rest 10 min
Roll dough into four equal balls. Re-wrap and rest 10 min.
Roll each ball with rolling pin until about 9" in diameter.
Heat skillet over medium-high heat. Cook one tortilla 2 min or until browned, flip and cook another 2 min. The dough should puff. Remove and repeat with remaining dough.
Slice baby corn thinly. Dice tomatoes.
Saute corn in skillet with 1 pat butter until browned. Add tomatoes and continue to saute 1 min. Add 1 T minced parsley. Season with salt.
Rub steak with oil and season generously on both sides with salt.
Heat skillet over high heat. Add steak and sear until browned on one side, about 2 min. Turn and put skillet in fan oven. Roast until medium rare, about 4 min. Remove to plate and cover with foil.
Cut rounds out of the middle of the tortillas. Rub with oil and toast in the oven until crisp, about 5 min.
Place one tortilla round on plate. Top with 2-3 T pepper puree.
Slice steak against the grain. Place on top of puree and fan out. Top with caramelized onions.
Spoon corn saute into ring on plate. Remove ring. Spoon a smear of puree decoratively around perimeter of plate.