Fish pie like your mother never made it
Cormac Mac Gabhann's signature dish from Heat 2 of MasterChef 2014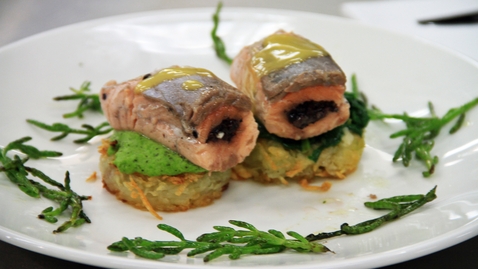 Ingredients
tapenade:
8 medium sized olives
1 clove of garlic
5 capers
3 anchovies
4 table spoons of extra virgin olive oil
salt
pepper
salmon:
2 salmon fillets
potato rosti:
2 large potatoes
salt
pepper
sunflower oil
duck fat
pea and mint puree:
200 gms of frozen peas
dried mint
100 ml double cream
salt
spinach:
200 g fresh baby leaf spinach
butter
salt
3 cloves garlic
pepper
beurre blanc sauce:
1 shallot
100 ml white wine
50 g butter
extra virgin olive oil
handful of samphire
Method
Finely chop all the ingredients and mix.
Mix in the olive oil and mash together using a spoon.
Once the tapenade is ready, cut the salmon through the middle without cutting through entirely. Flatten out the salmon and spread the tapenade. Once this is done, roll the salmon fillet tightly.
Cut a large square of cling film and lay flat. Place the rolled salmon fillet at one end of the cling film and roll tightly, squeezing the air out as you go.
Twist each end in opposite directions and refrigerate.
Once the salmon is in the fridge, peel the potatoes and grate them into dry kitchen towel and remove as much moisture as possible. Place two tablespoons of duck fat as well as some sunflower oil in a pan over a medium heat. Place the chef's ring in the pan and spoon in the grated potato. Compress down to have a compact rosti. Fry for 4 minutes on either side to have a crispy exterior and a soft centre. Place on a baking try.
Once done, prepare the beurre blanc sauce. Finely chop the shallot. Add to a pan over medium heat and gently brown. Add the white wine and allow to reduce to about one quarter.
Pass the mixture through a sieve into a bowl to remove shallot. Use bain-marie to heat the bowl and gradually add the butter until you reach sauce consistency. Pour into the thermos to keep warm until serving.
Boil the peas in salted water. Drain the water and pass peas into the blender. Blend for 5 minutes while adding the cream and mint.
Pour the puree into a saucepan and reheat prior to serving.
When this is ready, remove the salmon from the fridge. Boil water and remove from heat. Place salmon in the water and leave off the heat for 10-12 minutes.
While the salmon is cooking, finely chop the garlic and add to butter over medium heat. Once butter is melted, add spinach to the pan and gently fry until the spinach has wilted (2-3 minutes).
Place the rostis into an oven preheated to 180 to warm them up and turn heat on gently under the pea puree.
Finish:
Place two potato rosti at the centre of the plate.
Add pea puree to one mound and spinach to the other.
Cut the salmon in half and balance one half on each.
Drizzle the salmon and the outer edge of the plate with the beurre blanc sauce.
Decorate with samphire.