Scallop & prawn ravioli with lobster sauce
Rich Dales' signature dish from Heat 1 of MasterChef 2014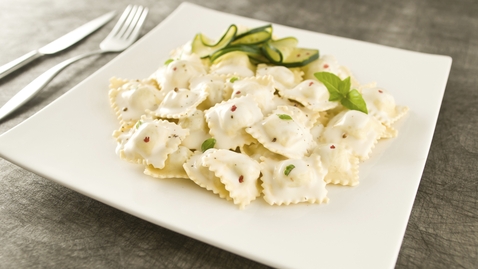 Ingredients
for the pasta:
300 g flour, grade '00' (plus more for dusting)
4 x free range eggs, medium size
for the pasta filling:
2 x king scallops
200 g raw tiger prawns
50 g double cream
fresh basil
maldon sea salt
freshly ground black pepper
for the lobster:
1 x lobster, approx. 750g
50 g butter
1 x lemon
for the sauce:
75 g butter, unsalted
1 x large carrot
1 x onion
fresh thyme sprigs
50 ml brandy
500 ml chicken stock
fresh samphire
fresh basil
1 x lemon
olive oil
freshly ground black pepper
Method
Put large pan of salted water on to boil.
For the pasta:
Combine flour & 3 eggs in the food processor & pulse to form breadcrumb texture.
Knead dough for 2-3 minutes, cover in cling film & refrigerate for future use. Allow a minimum of 20minutes resting time.
For the lobster:
Kill the lobster by piercing the shell at the back of the head and slicing down.
Drop into the boiling water and boil for approx. 12 minutes.
Remove and allow to cool.
For the pasta filling:
Slice each of the scallops horizontally into 2 or 3 pieces, depending on the size of the scallop. Season with salt & pepper and refrigerate.
Shell & devein the prawns (if not already done), place into the food processor with the cream and puree, seasoning to taste. Refrigerate.
For the sauce:
Remove the flesh from the lobster tail & claws and set to one side. Chop the shells.
Heat the sauté pan, add the butter and throw in the lobster shells. Fry for 5 minutes.
Chop the carrot & onion and place in the pan along with the thyme. Cook for a further 5 minutes.
Add the brandy and flambé until the alcohol has burned off.
Add the chicken stock, bring to the boil, reduce the heat and simmer for around 10 minutes.
Ladle into the food processor and process to a puree.
Pass the sauce through a chinois into a saucepan over a medium heat.
Add the samphire, some chopped basil & lemon juice and stir through. Season to taste with salt and black pepper. Keep warm.
For the ravioli:
Place a second pan of salted water on to boil.
Roll the pasta dough through the pasta machine until very thin and lay out half on a flat surface.
Cut 3 rough squares from the pasta and place a slice of scallop in the middle of each.
Top with a spoonful of the prawn mixture and place a small basil leaf on top.
Brush the unfilled area of the pasta with egg.
Cut more squares from the remaining rolled pasta and place on top of the squares with the filling. Press down to form a seal.
Squeeze any air from around the filling and cut out circles using a cutter.
Once the water is boiling, drop in the pasta and cook for 2 minutes. Strain once cooked.
For the lobster meat:
Whilst the pasta is cooking, heat some butter in a frying pan and add the lobster meat.
Sauté and baste for 1 minute, until warmed through.
Squeeze in some lemon juice and baste for another few seconds.
Remove from the heat.
To serve:
Place 3 ravioli in a large bowl and cover with the sauce.
Cut the lobster tail into 3 or 4 pieces and place in the sauce around the pasta.
Lay the lobster claw on top of the pasta.
Sprinkle with finely chopped basil.