Loin of rabbit with potato mousseline and cauliflower fritters
Emma Clarke's signature dish from Heat 1 of MasterChef 2014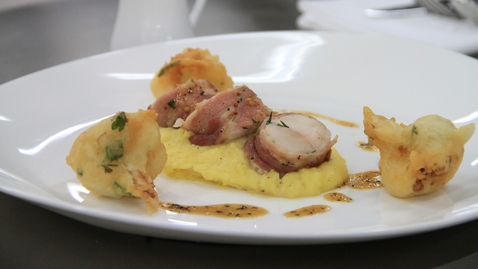 Ingredients
for the rabbit:
2 loins of rabbit (could i have two more for back up please)
unsmoked streaky bacon for larding
parsley
tarragon
dijon mustard
mustard glaze:
honey
butter
vegetable oil
for the potato:
50 g butter
400 g rooster potatoes
1 egg yoke
50ml whipped cream
maldon salt
white pepper
whole nutmeg
for the cauliflower fritters:
1 cauliflower
sweet marinade
batter
ground nut oil for frying
for the sweet marinade:
50 ml white wine
1 small onion
1 shallot
1 clove garlic
1 tblsp olive oil
a few sprigs of tarragon
a few sprigs of flat leaf parsley
salt
pepper
for the batter:
100 g plain flour
5g baking powder
15 ml groundnut oil
125 ml warm water
salt
1 egg white whisked into stiff peeks
for the jus:
white wine
100 ml rabbit or veal stock
for decoration:
chervil sprigs
micro water cress
Method
For the rabbit:
Preheat the oven to 240C.
Remove the loins from the rabbit and place them together with a thicker end at each end.
Place a few sprigs of parsley and tarragon between the loins and wrap the bacon around the rabbit and truss with string.
Place the rabbit in the steal tray, along with the bones and bake in the oven for approx. 15-18 minutes until it reaches a core temperature of 60C and is still pink inside.
Mustard Glaze:
Sear the roasted rabbit loin on the frying pan in a little vegetable oil to colour the bacon.
Add 1tsp of mustard, and 1 tsp of honey to the frying pan and stir.
Add some butter to give it a nice sheen and baste the loin.
Leave the rabbit to rest on a chopping board.
Carve in 1cm thick rounds.
For the potatoes:
Boil salted water in a pot.
Peel and wash the potatoes, and boil for 12-15 minutes.
Whisk the cream in a small mixing bowl and set aside.
Drain the potatoes and put back on the hob for 30 seconds to evaporate excess water.
Mash the potatoes using a potato ricer.
Using a wooden spoon, mix in the butter and egg yoke.
Season with salt, pepper and add fresh grated nutmeg to taste.
Stir in the cream.
For the Cauliflower Fritters:
To make the batter, sieve the flour, salt and baking powder into a mixing bowl and whisk in the oil, water. Set aside the egg white in a bowl
Using a pairing knife cut the florets off the stalk keeping a 1cm length of stalk on each floret and place in a mixing bowl.
To make the marinade for the cauliflower, chop the onion, garlic, shallot, parsley, tarragon and mix with the wine and oil in a medium sized mixing bowl. Season with salt and pepper and pour over the cauliflower florets and marinade for 10 minutes.
Heat the oil in the deep fat fryer to 180C.
Coat the florets in the batter and fry for 2-3 minutes until golden.
Place the florets on paper towel to drain.
For the Jus:
Using the roasting pan of the rabbit with the roasted bones, place on the hob and deglaze with the wine and veal/ rabbit stock. Scrape off all the caramelised meat juices and reduce the liquid.
Strain the jus through a chinois with muslin cloth and serve with the rabbit.
Finish:
Heat the plate in the oven.
Spoon the potato onto the centre of the plate.
Position 3 rounds of rabbit on top of the potato.
Spoon the jus around the plate and place 3 cauliflower florets around the rabbit.
Garnish with chervil sprigs and micro watercress.