Cartoccio of cod medallion in garlic and sage butter sauce
Claudio Moscati's signature dish from Heat 1 of MasterChef 2014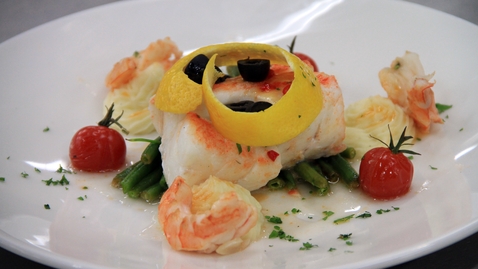 Ingredients
150 - 180 g of cod medallion
3 tiger prawns
2 potatoes
3 cherry tomato
3 tblsp extra virgin olive oil
2-3 cloves of garlic
10 g parmigiano
3 leaves of fresh sage
80 g green beens
10 sprig of chives
1/4 of a glass of white wine
0.50 g red chilly
10 g butter
0.50 lemon
10 ml milk
2 g parsley
3 or 4 black olives
5 10 g of flour
salt and black pepper
Method
To start bring the water to boiling point in a sauce pan, add the 2 potatoes and cook for 20 minutes
While they are cooking, clean the prawns from the shells and leave them to one side until later.
In another sauce pan boil some water and add the green beans only, for 3 to 4 minutes and drain the water straight after you've done that.
Now let's chop at least 1 clove of garlic into chunky pieces and put on top the cod medallion.
Place the medallion on top of the kitchen foil with a spoon of oil and half of the wine.
Add on top of that the 3 cherry tomatoes and close/ wrap the tinfoil around it, but not too tight.
Turn the oven on to 180" and when hot put the wrap inside.
Cook it for about 7 minutes then add the prawns and cook for another 6 minutes.
Peel the potatoes and mash them up adding parmigiano, milk and some butter once the compost gets to a puree point put it in a pipping bag and squeeze it on the plate in three different places.
Then place the plate in the oven to get warm and too keep the puree hot.
Warm up the green beens on a shallow pan with butter, add the remaining garlic and red chili.
As they heat up and the fish is ready it is time to plate it all.
Using the same shallow pan with the beans addthe sage and a drop of wine and to get it as thick as you need for the sauce. Just add a sprinkle of flour bring it to boiling point and that will be our sauce.
Make 2 bunches of green beans with the chives and place it in middle of the plate, then add the medallion on top, the cherry tomato on top of the medallion with few black olives.
Then position the prawns on top of the puree of potato and to complete drizzle the sauce on top of nearly everything.