Quinoa Crumbed Lamb
David Gillick serves up this starter on Celebrity MasterChef Ireland.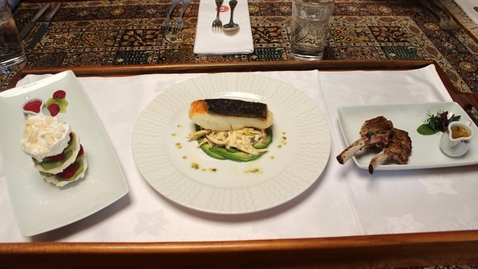 Ingredients
50 g white quinoa, rinsed
1/3 cup of water
2 tblsp finely chopped flat leaf parsley
1 garlic clove, crushed
sea salt and cracked black pepper
4 x 70 g lamb cutlets, trimmed
plain flour, for dusting
2 tblsp olive oil
2 eggs, lightly beaten
sauce for starter:
2 tblsp olive oil
2 tblsp fresh rosemary (bunch of rosemary)
2 tblsp fresh lemon juice
1/2 cup chicken stock
1 tblsp butter
Method
Place the quinoa and water in a medium saucepan over a high heat and bring to the boil.
Reduce heat to low and cook, covered, for 12-14 minutes or untilthe water is absorbed.
Remove from the heat and allow to stand, covered, for 5 minutes to cool slightly.
Preheat the oven to 200 degrees C.
Place parsley, garlic, salt and pepper in a bowl and toss.
Dust lamb in flour, dip into the eggs and press into the quinoa mixture.
Heat oil in a frying pan over high heat.
Cook the lamb, for 2 minutes each side or until golden.
Transfer lamb to a baking tray and roast for a further 2 minutes or until cooked to your liking.
For the sauce, add garlic, rosemary, lemon juice, and stock to pan and deglaze over high heat, stirring and scraping up brown bits, 1 minute. Whisk in butter.
Assemble on plate with sauce in a miniature jug.
Notes:
Equipment: Garlic crusher, Frying pan, 2 x Medium saucepans, Metal whisk, 5 mixing bowls, Scales, Serving Plate, Miniature jug, Baking tray, Pestle and mortar