Pan fried Pork Chop
Aengus Mac Grianna serves up pan fried pork chop, celeriac mash, apple & tarragon gravy with fried asparagus wrapped in prosciutto.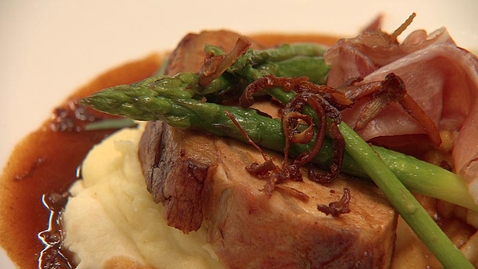 Ingredients
1 large and thick cut pork chop or two thin cut pork chops.
marinade for pork chop:
a quarter teaspoon of smoked paprika
0.50 a teaspoon minced garlic
pinch of salt
olive oil
dash of worchesteser sauce.
mash:
1 celariac
3 or 4 medium sized potatoes.
100 g butter
250 ml double cream
salt and pepper
gravy:
1 tsp chopped tarragon
1 apple (cox preferably)
50 ml water
1 or 2 tbsp sugar
2 tblsp calvados liqueur.
100 ml cream. (optional)
asparagus:
5 asparagus spears
2 slices of prosciutto ham
1 tablespoon worcestershire sauce/ or soya sauce
Method
Marinade: Mix all the marinade ingredients in a bowl and brush pork chop with marinade. Pour remainder over chop, cover with cling-film until ready to use.
Mash: Cut potato and Celariac into equal sizes and place equal quantities of both into a pot and cook on gentle heat until soft. Drain and let dry out further for a floury effect. Add butter, cream, salt and pepper and mash thoroughly.
Chop & Gravy: Put olive oil on pan and turn up high. Remove chop from marinade and very lightly dust with any remaining paprika. Place on pan and brown on both sides. Turn down heat and allow juices carmelise. Once cooked remove and drain off any fat/oil.
Put the chopped apple, water and sugar in a saucepan and stew over a moderate heat until mushy. Blitz in a blender until completely smooth. Pass through a sieve.
Then add chopped tarragon, stir into juices before adding calvados. When the Calvados has reduced, add the a few spoons of the apple puree and stir, scraping up carmelised juices.
Reduce and strain before serving.
Asparagus: Spray pan lightly with olive oil/sunflower oil. Add Sesame seeds on a gentle heat and lightly toast. Remove and keep in a bowl till serving. Clean pan and add asparagus. Cook on gentle heat for 3 minutes. Remove and wrap in prosciutto ham and return to pan for a further two minutes, adding splash of Worcestershire sauce.