Roasted Loin of Veal
Athlete David Gillick serves up roasted loin of veal, prosciutto, gorgonzola mash, sage and garlic jus accompanied with green beans, lemon zest, walnuts, and peas on Celebrity MasterChef Ireland.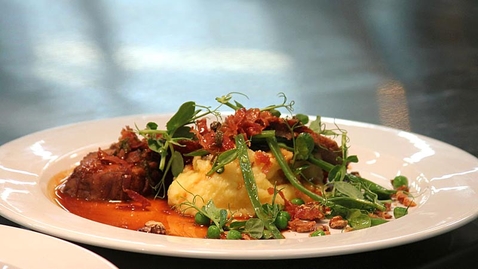 Ingredients
veal loin roast
400 g rooster potatoes
5 slices of prosciutto
small packet gorgonzola cheese
1 tblsp dried and fresh sage
garlic
250 ml white wine
200 ml chicken stock
butter
200 ml beef stock
olive oil for the pan
juice and zest of 1 lemon
100 g green beans
handful walnuts
100 ml approx. cream
100 g peas
thyme
Method
Tie the Veal with butcher's string into a neat roast shape and place the thyme
underneath the string.
Roast Veal in oven at the oven at 180 degrees (30min per 500g). Use a meat thermometer and baste regularly during cooking. Aim for 60/65 degrees for
the veal to be served medium and 50/55 degrees for rare. Once cooked, take out of oven and let rest, covered in foil.
Jus: Pour juices on bottom of roasting tin into pan to use for jus. Add white wine, chicken stock, beef stock, sage, crushed garlic and lemon juice to the pan, simmer and reduce. Season to taste.
Green beans and peas: Roast the walnuts in the oven for 20min at 160. Once roasted, remove from the oven and crush into chunks.
Blanch green beans and peas in boiling salty water for 3 min and then put in ice water immediately. When ready to serve, put in a pan with butter and sauté for 1 min.
Mix in walnuts and add zest of lemon. Season to taste.
Potatoes: Peel and chop potato into chunks and boil until soft. Mash potato adding in a dash of milk, some butter and season with Salt and pepper. Keep warm.
Prosciutto: Chop prosciutto into fine strips and pan fry in oil until crisp. Transfer onto kitchen towel and leave.
To serve: Warm up the green beans, peas and the jus. Place a knob of the gorgonzola on top of the mash and place slices of the rested veal alongside. Sprinkle the crispy prosciutto on top and serve with the green beans and jus.