Tarte Tatin with Vanilla Ice-cream & a mini toffee apple
Maia Dunphy serves up this delicious dessert on Celebrity MasterChef Ireland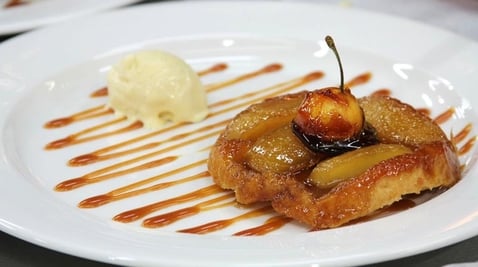 Ingredients
tarte tatin:
6 medium cox or granny smith apples
200 g white sugar
50 g butter
pastry:
225 g plain flour
2 tblsp caster sugar
120 g cold butter
1 medium egg, beaten
vanilla ice cream
3 vanilla pods
1 l oz double cream
140 g sugar
6 egg yolks
mini toffee apple (caramel):
mini toffee apples: (makes 10)
3 large cooking apples
10 cherry stalks (optional)
200 g sugar
cocktail sticks
Method
Peel, halve and core the apples. Put the sugar into a 20cm heavy-based ovenproof frying pan along with some water (50ml), leave to soak for a couple of minutes, cook over a medium heat until golden.
Take off the heat and stir in the butter, and a pinch of salt, until well combined, arrange apples in the pan, round-side down, and put back on the heat. Cook for further 5 minutes, then take off the heat and allow to cool.
Sift the flour into a large mixing bowl and add the sugar and a pinch of salt. Grate in the butter, then rub together.
Mix the egg with 2 tsp cold water and sprinkle over the mixture. Mix together, shape into a ball, cover with clingfilm and refrigerate for 20 mins.
Pre-heat the oven to 200C. Roll out the pastry cut out a circle to fit the pan. Put back into the fridge to rest.
Put the pastry on top of the pan and tuck in the edges around the fruit. Bake for about 30 minutes.
Vanilla Ice Cream: Halve the vanilla pods lengthways and scrape out the seeds.
Add the pods to the cream and bring to the boil, then add the sugar and stir until the sugar has dissolved.
Meanwhile, whisk the egg yolks in a large bowl then slowly whisk in the hot cream mixture.
Pour the mixture through a fine sieve into another bowl and whisk in the vanilla seeds.
Pour the mixture into a freezer-proof container and freeze for 2-3 hours, or until set.
Mini toffee apples: Peel apples. Using a melon baller, scoop out 10 mini spheres from apples. Dry thoroughly with paper towel. Make a small hole using a cocktail stick in the top of each ball.
Put sugar in a pan and add half a glass of water. Swirl to cover sugar. Heat on medium heat until water evaporates and sugar starts to caramelise. When caramel is golden brown, dip apple balls in and coat.
Use a cocktail stick to dip them in as caramel will be molten and very hot.
Put a cherry stick on top of each in the cocktail stick hole and leave on baking paper to set. NB - The mini toffee apples will only last 10 mins before the acid in the apples melts the caramel so make them at the last minute.
To serve: Serve the Tarte Tatin with a scoop of vanilla ice cream and a mini toffee apple.
Notes:
Equipment: Sharp knife, Apple corer, Veg peeler, 20 cm ovenproof frying pan or smaller pans for individual tarts, large mixing bowl, large grater, clingfilm, rolling pin, fork, small mixing bowl, small saucepan, wooden spoon, sieve. To serve: White plate and small white jug for crème.