Panna Cotta with Rhubarb and Almond Tuille wafers
Aengus Mac Grianna serves up this delightful dessert on MasterChef Ireland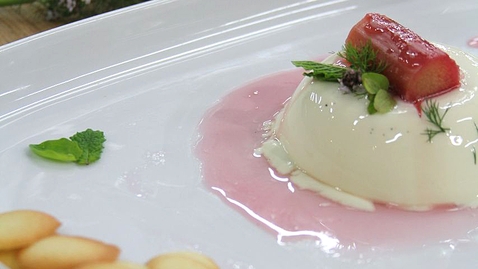 Ingredients
rhubarb:
2 sticks of rhubarb cut to size of bottom of ramekin.
300 ml water
25 g sugar
panna cotta:
3 gelatine leaves
250 ml milk
250 ml double cream
1 vanilla pod split
25 g sugar
tuille paste:
100 g plain flour
100 g icing sugar
100 g butter (melted)
3 egg whites
0.25 tsp almond essence/ or 2 teaspoons of ground almonds
extra butter and flour for baking sheet
Method
Rhubarb: Put water and sugar in a pot and bring to the boil. Reduce to simmer and add rhubarb for five mins. Remove rhubarb and set aside. Increase temperature and reduce juice to syrup. Remove and set aside to cool.
Panna Cotta: Soak gelatine in cold water until soft. Place cream, milk, and vanilla and sugar in pan and bring to simmer. Remove vanilla pod. Squeeze water from gelatine and slowly mix. Take off pan once it's dissolved. Divide among 4 ramekins or pudding bowls and leave to cool in fridge until set.
Tuille: Sieve flour and icing sugar in mixing bowl. Add almond essence before slowly mixing in egg whites. Add melted butter and mix into a paste. Allow to settle for 20 mins before pouring out onto greased baking sheet or silicone baking sheet. Spread out and cover with greased baking sheet or silicone baking sheet. Then with a rolling pin roll out further until very thin. Remove top layer and put in the oven at 180 degrees for approx five minutes/golden in colour.
To serve: Turn out panna cotta, serve with the rhubarb and tuile biscuit.
Notes:
Equipment needed:
Rhubarb
1 pot and plate
Fish slice to gently remove rhubarb from pot
Fork and spoon to transfer rhubarb and spoon out sauce

Panna Cotta
Pot for gelatine
Pot for cream etc
Four ramekin dishes or pudding bowls
Tuille
1 mixing bowl
1 pot for melting butter, baking paper or silicone sheet
Spreading knife
Rolling pin